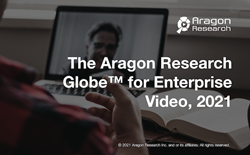 Video has become an integral part of digital business and it isn't going away.
PALO ALTO, Calif. (PRWEB) January 14, 2021
Aragon Research identifies fifteen major providers in its Globe for Enterprise Video, 2021, published today.
In 2020, video went mainstream due to the surge in remote work caused by COVID-19, as most meetings and events were forced online. Because of this, video content management grew in demand as enterprises looked for ways to track, store, and manage the content associated with video use–this is where enterprise video providers have come to the rescue.
Use cases for enterprise video include both customer and employee engagement. For interacting with prospects and customers, video is now the engagement tool of choice. For employees, video is being worked into onboarding and learning methods. Enterprise video use cases don't stop there–we are also seeing video utilized for virtual corporate events, digital campuses, telehealth solutions, and more. The shift to video methods was influenced by the increase in remote work, but will likely stick around due to convenience and efficiency.
"Video has become an integral part of digital business and it isn't going away," says CEO of Aragon, Jim Lundy. "There is a huge opportunity for enterprise video providers to meet new and urgent needs associated with the surge in video content across organizations. With that said, many providers are emerging and doing really innovative things in the market."
The providers evaluated in this Globe report include: Brightcove, gomo Learning, Haivision, IBM, Kaltura, MediaPlatform, Microsoft, movingimage, Panopto, Qumu, Ramp, Sonic Foundry, uStudio, Vbrick, and Vidyard.
Enterprises should use this report to evaluate enterprise video providers. Aragon clients can access the Aragon Research Globe for Enterprise Video, 2021, in the AIN client community or on aragonresearch.com.
About Aragon Research
Aragon Research delivers high-impact visual research, consulting, and advisory services to provide enterprises the insight they need to make better technology and strategy decisions. Aragon Research serves business and IT leaders and has a proven team of veteran analysts. For more information, visit https://www.aragonresearch.com/.