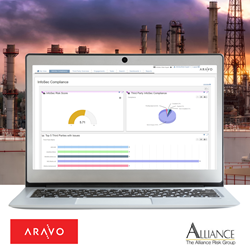 What used to be 'once in a hundred year' tail risk events seem to occur annually in the energy industry.
SAN FRANCISCO and HOUSTON (PRWEB) December 07, 2021
Aravo Solutions, a leading provider of risk and resilience solutions, and The Alliance Risk Group, a leader in delivering solutions for risk management with capital efficiency to the energy market, have announced a strategic go-to-market partnership.
Focusing on the energy sector, the partnership will allow organizations in the oil and gas, electricity, and related products/services to enhance their resilience, compliance, and governance with Aravo's market-leading third-party risk management (TPRM) software and The Alliance Risk Group's outstanding advisory services delivered by a seasoned team of experts.
"Energy companies of virtually all types rely heavily on outsourcing partners for goods and services," notes Michael Saracini, CEO of Aravo. "Aravo helps them understand and mitigate the potential compliance, reputation, cyber, and environmental risks associated with those third parties. We're delighted to partner with The Alliance Risk Group to provide this critical market segment with even more robust solutions for ensuring responsible and ethical delivery of their products and services."
"What used to be 'once in a hundred year' tail risk events seem to occur annually in the energy industry," says Mike Prokop, Managing Director of The Alliance Risk Group. "At the same time, the industry itself is changing rapidly in the face of increasing demand for sustainable energy. The Alliance Risk Group specializes in expert guidance for navigating these challenges, and we're confident that Aravo's scalable and adaptable TPM software is the right choice for operationalizing the management of risk."
Aravo offers an end-to-end platform for managing third-party risk across the entire lifecycle of the relationship, from ready-to-use applications for maturing programs to specially configured solutions for large, global, complex organizations with unique needs. Enhanced due diligence products for anti-bribery and corruption, ESG (environment, social, governance), information security, supply chain resilience, and data privacy help organizations deeply interrogate and report on the risk, resilience, and compliance of their third-party ecosystem.
About Aravo
Aravo delivers the market's smartest integrated risk and resilience solutions, powered by intelligent automation.
For more than 20 years now, Aravo's combination of award-winning technology and unrivaled domain expertise has helped the world's most respected brands accelerate and optimize their third-party management programs, delivering better business outcomes faster and ensuring the agility to adapt as programs evolve.
With solutions built on technology designed for usability, agility, and scale, even the most complex organizations can keep pace with the high velocity of regulatory change. As a centralized system of record for all data related to third-party risk, Aravo helps organizations achieve a complete view of their third-party ecosystem throughout the lifecycle of the relationship, from intake through off-boarding and all stages in between and across all risk domains.
Aravo is trusted by the world's leading brands, helping them manage the risk and improve the performance of more than 6.5 million third parties, suppliers and vendors across the globe.
Learn more at aravo.com
About The Alliance Risk Group
The Alliance Risk Group helps vigilant energy industry leaders leverage risk to shape resilient, capital efficient practices for growth during disruptive, uncertain times.
Alliance has been providing risk-related advisory services across the broad spectrum of the energy industry for over 10 years. Each Alliance professional has decades of experience in the areas of operational risk, credit, compliance, project management, and sustainability which provides an integrated approach to address client needs. Alliance also provides leadership and subject matter input to energy industry organizations, regulators, and self-regulatory organizations so that they may be aware of the latest trends in the market.
Alliance combines its years of experience to demonstrate to its clients why it is important to break down internal communication silos and approach risk in a fully integrated manner that combines risk, cyber, digital transformation, and sustainability.
Learn more at http://www.theallianceriskgroup.com