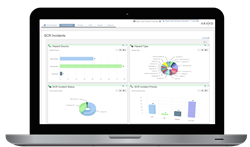 The global pandemic has heightened awareness of emerging risks associated with supply chain disruption all the way to the board level
SAN FRANCISCO (PRWEB) August 10, 2020
Aravo Solutions, the leading provider of intelligent automation applications for third-party risk and performance management, has announced the general availability of Aravo for Supply Chain Resilience. Using this pre-configured application, organizations can take a proactive, supplier-based approach to preventing disruptions of all kinds that can stem from natural disasters to man-made events.
"The global pandemic has heightened awareness of emerging risks associated with supply chain disruption all the way to the board level," says Kimberley Allan, CMO at Aravo. "Regulators are also asking tough questions about what is being done to prevent disruption. With Aravo for Supply Chain Resilience, third-party risk programs can implement the functionality needed to address these demands in a matter of days."
In a recent survey, 74% of respondents reported that supply chain disruptions and constraints would be the greatest threat to their manufacturing business over the next 12 months*. However, COVID-19 has exposed organizations of all kinds to unprecedented hazards, such as cybersecurity and continuity risks associated with the broad shift to remote work, and exposed the brittleness of existing supply chains.
"In the wake of the pandemic, our clients quickly leveraged Aravo's inherent platform capabilities to reach out to their third parties and analyze the impact on their operations," comments Aravo CTO Eric Hensley. "Because of the flexibility and extensibility of the platform, Aravo has been able to fully develop a ready-to-use application in a matter of months that will automate that process for them with the added benefits of pre-configured hazard monitoring and reporting. The application will further help them manage business processes for mitigating risks and identifying alternate suppliers."
Capabilities:

Hazard reporting. Through integration with a global monitoring platform, such as DisasterAWARE, Aravo sends alerts when a supplier could potentially be impacted by issues such as weather, geo-political unrest, or virtually any other hazard. Hazards can also be reported in Aravo by users or by third parties using the Third Party Portal.
Business impact assessments. Based on alerts, users can send online business impact surveys to potentially affected third parties. Aravo scores the responses and automates a review process to determine if further action is needed.
Action plans. If an incident requires mitigation, Aravo automates the steps within the action plan through completion with a robust audit trail. To ensure continuity of supply, the solution can also identify alternate sources of supply, giving users the option of using Aravo to launch an RFx.
Reporting. Aravo for Supply Chain Resilience includes pre-configured dashboards and reports that provide visibility into potential risk exposure from the portfolio level all the way down to the specific contract or engagement, including details of remediation activities.
Benefits of Aravo for Supply Chain Resilience
With Aravo for Supply Chain Resilience, third-party risk programs can deliver value to the business:
Prevent disruption caused by lack of information about potential emerging risks.
Defend continuity of supply by gathering the data needed to make decisions.
Respond to threats through automated risk mitigation plans and identification of alternate suppliers.
Recover from incidents potentially disruptive incidents by ensuring mitigation plans fully implemented and concluded.
Aravo for Supply Chain Resilience is generally available now. For more information or to request a demo, please visit https://aravo.com/products/supply-chain-resilience/.
About Aravo
Aravo delivers the market's smartest third-party risk and performance management solutions, powered by intelligent automation.
For more than 20 years now, Aravo's combination of award-winning technology and unrivaled domain expertise has helped the world's most respected brands accelerate and optimize their third-party management programs, delivering better business outcomes faster and ensuring the agility to adapt as programs evolve.
With solutions built on technology designed for usability, agility, and scale, even the most complex organizations can keep pace with the high velocity of regulatory change. As a centralized system of record for all data related to third-party risk, Aravo helps organizations achieve a complete view of their third-party ecosystem throughout the lifecycle of the relationship, from intake through off-boarding and all stages in between and across all risk domains.
Aravo is trusted by the world's leading brands, helping them manage the risk and improve the performance of more than 5 million third parties, suppliers and vendors across the globe. https://aravo.com/.
*June 2020 industry survey conducted by Almonty Industries