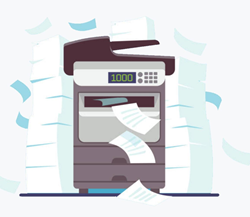 COLUMBUS, Ohio (PRWEB) November 27, 2020
ARC Healthcare launches Fourleaf™ a "one-click" contract management, and enrollment automation platform, eliminating the leading inefficiencies in Medical Payor provider enrollment.
ARC Healthcare LLC, an innovative Healthcare processes and technology consulting firm that has developed technology to unify the collection process of contracting, credentialing, rosters, provider data to replace the manually-intensive provider enrollment process with a simplified, end-to-end solution. ARC Healthcare has worked with clients across the country and witnessed firsthand the laborious, costly, and intensive tasks Health plans are challenged with to build rapid, comprehensive, and quality networks to service their patients. Many challenges are faced while trying to build a comprehensive and quality network to service patients.
Health plans as well as Providers may lack the time and resources needed to analyze internal processes or have limited funding to develop robust automation and advanced IT solutions. As a result, both Payors and Providers are stuck working in spreadsheets, manually completing forms, and contracting by mail which is costly, burdensome, highly time consuming and error prone. Provider contracting, credentialing and enrollment requires a multi-faceted approach and is the foundation for Payor success. The routine monthly updates made to providers' information and data sets, including new providers, terminations, and location changes, can be tedious to manage and warrants process workflow. Incorrect entry of provider data that route to directories causes inconsistencies, causes confusion, claim delays, member access issues, and even worse, fines and compliance problems. These manual processes lead to duplicative processes, administrative complaints, employee turnover, and higher costs.
ARC Healthcare's solution, Fourleaf, is a cost-effective solution, and fully automates the manual processes of provider enrollment – creating process, and saves customers from repetitive tasks, unnecessary staffing, and excessive spend. By streamlining the provider's paper-driven enrollment processes, Fourleaf eliminates inaccurate dataset errors, and provides easy to use, comprehensive reporting. To succeed, Payors must have a secure, cloud-based, and uniformed solution to manage provider data, automate contracting and enrollment, collect and house documents, and quickly locate documents to comply with audits and State compliance requests.
The Fourleaf Solution
Fourleaf is a unified system designed to collect and manage provider data in a secured cloud infrastructure. The efficiency of time and financial resources is always at the forefront of any solution - and Fourleaf delivers. Integrating automated contracting, document management, task management, and roster ingestion allows Health plans to quickly report on Network Adequacy, allows for automatic data transfers and integrations of contracted information into core systems like claims and authorizations. Provider directories can be generated, and network adequacy reports delivered in a seamless all-in-one system. Other automated reports to conduct internal audits of staff productivity and task completion are at management's fingertips. Unlike other systems on the market, Fourleaf also offers customization to ensure all provider data points are covered to meet your needs.
About ARC Healthcare, LLC
ARC Healthcare, LLC was formed in 2012 to serve organizations in improving contracting processes, keeping them compliant with government guidelines on network adequacy, and ensuring provider data is accurate and easily analyzed. We are a premier firm that delivers an array of services, including healthcare provider recruitment, contracting, software development, call center, staffing, and consulting support resources.
"Our mission at ARC Healthcare is to bring top-quality, meaningful and secure solutions to our customers. Our overarching goal is to bring streamlined solutions to our customers, with an easy to use, all in one system. The days of providers emailing handwritten agreements, with missing information, and unsecured social security numbers across the internet are gone. We are so pleased to be at the forefront of such a meaningful solution," says Amanda C. Ratliff, CEO,
ARC Healthcare. ARC Healthcare, LLC is a certified Woman Owned Small Business (WOSB) and Women-Owned Diverse Supplier (WBENC).
#cloudsolutions #documentmanagement #Networkdevelopment #contracting #managedcare #automation #healthcare #taskmanagement #electronicsignature #providerdirectory #providerenrollment #credentialing #roster
#providercredentialing