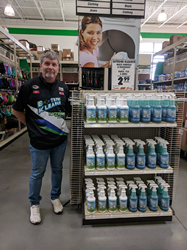 POCONO, Pa. (PRWEB) June 17, 2019
What Originally began in 2016 as a 'once a year' promotion designed to inform the public of the importance of shopping local and supporting their local, family owned businesses on Main Street, USA, has expanded to three quarters of the year, as Extreme Energy Solutions continues its annual "Tour of Stores" promotion tradition.
The Extreme Energy Solutions 2019 Summer Tour of Stores began in New Jersey, where several Carquest Auto Parts Stores, independently owned and operated, were highlighted for the value they brought to the community - such as local jobs, ratables, and quality product lines, which also includes Extreme Kleaner, the non-toxic biodegradable multi-purpose cleaner-degreaser.
The Tour would travel down the eastern seaboard, with stops from West Virginia to Florida, bringing the spotlight to a number of small businesses, important to their respective towns, including a host of hardware stores, auto part stores, and lawn and garden equipment sales and repair.
After a quick stop in Port Orange, Florida, at Port Orange Equipment, Extreme Energy Solutions Representatives traveled throughout the southern states of Kentucky, Tennessee, Arkansas, and Texas, as many affiliated hardware, paint, auto parts, and general stores that source inventory from Orgill Distributors, enjoyed visits from Extreme Energy Solutions.
With tens of thousands of miles clocked on the odometer, the Extreme Energy Solutions van would travel to the Southeast of New Mexico, Utah, and back to the lower Mid-West, before heading into Hardware Hank country. Hardware Hank is a brand owned and affiliated with United Hardware; however each hardware store or retailer location is independently owned and operated.
Along the way, The 2019 Summer Tour of Stores would catch up with ARCA Menards Series Driver Tommy Vigh Jr., who is the driver of the #10 Extreme Kleaner ARCA race car and Brand Ambassador for Extreme Kleaner, H2O Energy Flow, and Extreme Xtra Fuel Treatments. Vigh would make talent appearances at store locations within relative distance to race tracks, a day before race events to meet and mingle with the retailer's customers, local race fans, and media. Vigh currently is in the top ten in Point Standings in the ARCA Menards Series.
The Tour would then loop through the upper mid-west and return to NJ via the route 80 corridor.
To be eligible for the Extreme Energy Solutions Tour of Stores Promotion, an independent family-owned retailer type business must be partnered with Extreme Energy Solutions in offering one of its consumer product lines at their store location. In addition to on-site store promotions, each store is also spotlighted on social media, and highlighted as a local business of which their local community is encouraged to patron and support.
Currently, Extreme Energy Solutions' consumer products, including either Extreme Kleaner, H2O Energy Flow, or Extreme Xtra Fuel Treatments, are offered in over 600+ retailer locations throughout the United States, and are also offered internationally in a select group of retailers located in Island Nations, and in Mexico.
"Small businesses are the life blood of a local community, and without them, you don't have local jobs, freedom of choice of where to shop, or product distribution," said Nick Stefano, Extreme Energy Solutions Business Development Representative. "Every store counts and we look forward to partnering with as many store owners as possible."
"We really appreciate the contribution small business owners make to the local economy, and in our travels have seen first-hand the influence a thriving Main Street full of prospering small business enterprises can have on building a healthy and safe community," added Samuel K. Burlum, CEO and President of Extreme Energy Solutions, "As part of our partnership program, we provide small businesses additional marketing tools and educational support (at no cost to the local retailer), which they would have otherwise had to make a financial investment for. We do this out of our desire for the continued success of small businesses," expressed Burlum.
On the roster, Extreme Energy Solutions consumer products are sold in selected retailer locations under the brands of Ace Hardware, True Value Hardware, Hardware Hank, Trustworthy Hardware, Golden Rule Lumber Centers, Sutherland Lumber Centers, NAPA Auto Parts, Bumper to Bumper, Woodman's Markets, Carquest Auto Parts, Auto Parts International, and Menards.
Extreme Energy Solutions consumer products are also available in independent specialty retailers such as Bassani Power Equipment, Motorcycle Madness, Hampton RV, Elliott's Automotive, Jersey Power Equipment, Escape RV, Catch 23 Deli, and other merchants and dealers, many who mainly offer Extreme Kleaner.
Extreme Energy Solutions and its Extreme Kleaner brand is an official partner of Daytona International Speedway, Daytona 500, ARCA Menards Series, and Bethel Motor Speedway. Extreme is also a proud supporter of Project Help, non-profit organization that assists Veterans and their families in need. A portion of each sale of Extreme Kleaner is donated to help support Veterans and their families in need through Project Help.
For more information you can visit: http://www.ExtremeEnergySolutions.net or http://www.ExtremeKleaner.com