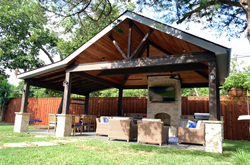 RICHMOND, Va. (PRWEB) December 09, 2019
Agustin Garza, owner of Archadeck of Northeast Dallas–Southlake, and his team were awarded Archadeck Outdoor Living's Design Excellence Award for a cabana and custom covered patio outdoor entertainment space. This national contest recognizes design excellence among its franchise locations across the United States and Canada.
Garza and his team helped these Dallas homeowners realize their vision of the ideal outdoor entertainment space to maximize their enjoyment of their large backyard area. Garza custom designed a beautiful and functional cabana in which the homeowners can cook, eat and relax. The cabana features a gable and hip roof plus an attached shed roof to cover the eat-in dining area. This stunning project boasts exposed beams, an outdoor fireplace and kitchen, stone columns and a flagstone walkway.
The cabana's tongue-and-groove pine ceiling finish is stained Dark Walnut, and the exposed beams and posts are stained Dark Chocolate for a high-contrast aesthetic. The area includes a custom outdoor fireplace and kitchen featuring Granbury chopped stone vertical surfaces to achieve a pleasing contrast with the warm, dark wood colors of the structure. The kitchen countertops are grey Lueders stone, which was also placed on the fireplace mantel and column tops. The concrete is stained and stamped with an Ashlar stamp and Platinum Gray and Charcoal stain.
Additionally, three inviting custom flagstone walkways connect the cabana to the existing patio, and are stained and stamped to match the cabana area. Two ceiling fans, a beautiful six-light chandelier and four recessed can lights will help cool and light the outdoor space as needed.
"The homeowners are thrilled with their new outdoor living space, which has completely transformed their backyard and how they'll be able to use it with family and friends in the future," said Garza. "We specialize in creating inviting custom outdoor living spaces that meet the goals of each individual homeowner, to help them get the most enjoyment out of their outdoor areas. With this project, we literally took a blank space and designed the ultimate outdoor oasis in which the homeowners will create lasting memories for years to come."
"We're pleased to present this award to Agustin Garza and the entire Archadeck of Northeast Dallas–Southlake team," said Mike Reeder, Vice President of the Archadeck Outdoor Living Brand. "They continue to demonstrate the expertise, professionalism and dedication to designing and building exquisite outdoor living spaces that are the hallmarks of our brand."
The winning projects will be featured in the Archadeck Design Excellence Award photo gallery, which can be found on the company's website at https://nedallas.archadeck.com/.
About Archadeck Outdoor Living
Archadeck Outdoor Living is North America's largest builder of custom-designed and built decks, screened porches, sunrooms, outdoor living rooms, outdoor kitchens and outdoor living structures. Qualified Remodeler and Remodeler Magazine consistently rank Archadeck at the top of their respective annual "Best" lists. Archadeck projects have graced the covers of Gardens, Decks and Patios and Decks & Backyard Projects. The company has been featured in articles in This Old House, Smart Money, Coastal Living, Better Homes & Gardens and Gardening & Deck Design, as well as on HGTV. Additional information can be viewed at http://www.Archadeck.com/.