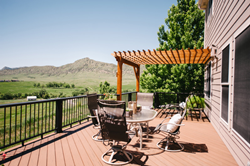 COLORADO SPRINGS, Colo. (PRWEB) June 02, 2020
America's premier outdoor living space builder, Archadeck Outdoor Living, is pleased to announce the opening of Archadeck of Colorado Springs. This new Archadeck location is owned and operated by Jim Shoff, Ted Wickman and Jennifer Wickman. Ted and Jim are both U.S. military veterans.
Archadeck of Colorado Springs offers exceptional outdoor living space design and building services to the following areas: Elbert, Elizabeth, Kiowa, Larkspur, Monument, Palmer Lake, Cascade, Manitou Springs, Colorado Springs, Peyton, and Woodland Park. Shoff and Wickman custom design and build outdoor living spaces for clients, including decks, hardscapes, patios, pergolas, porches, outdoor kitchens and more.
"We are thrilled to have Jim, Ted and Jen join the Archadeck family," announced Mike Reeder, Vice President and Brand Leader of Archadeck Outdoor Living. "Their military service experience, prior experience with design, construction and landscaping, and their backgrounds as independent business owners will help them build a successful Archadeck business in the Colorado Springs area."
Jim Shoff is a U.S. Air Force veteran who graduated from the U.S. Air Force Academy in Colorado Springs with a degree in Electrical Engineering and spent close to a decade as an Air Force helicopter pilot. His background also includes Director-level enterprise design software experience at Adobe, Oracle, BEA, and Plumtree; real estate investing; and co-founding a waterside tiki bar restaurant in Florida -- all of which provided him with experience in design, construction, renovation and refurbishing projects that included decking and landscaping.
"I was also attracted to Archadeck's successful track record," said Shoff. "When I met the team and learned about the outstanding support and structure of the business, I knew it would be a great fit for my goals as a business owner, and an organization I would be proud to be part of."
Ted Wickman is a U.S. Navy veteran who served on both the U.S.S. Memphis and the U.S.S. Philadelphia as a sonar specialist with the Naval Submarine Service. His background includes leadership positions with several companies following his naval service to include Vice President Client Infrastructure Engineering at Citi Bank. He later founded Wickman Landscaping in January 2015, where he designed and installed landscaping and hardscaping for customers specializing in deck building, irrigation, and lighting.
"I chose Archadeck because it allows me to utilize my landscaping skills and function as an independent business owner while at the same time counting on corporate support as a franchisee for an established company with a strong reputation for service and excellence," said Ted Wickman.
Jen Wickman raised three children along with Ted during his Navy tenure. She entered the medical field to include eighteen years as an operating room Certified Surgical Technologist. Switching careers, she earned her Master's in Public History in 2019, and was the Historian for her local chapter of the Daughters of the American Revolution, and the Vice President of the Daughters of the American Colonists. Jennifer also served as COO of Wickman Landscaping. In parallel, she served in various roles for many of her favorite local charities over the years. Jennifer obtained many valuable skills in her past careers and experiences to include a great attention for detail, client satisfaction, and an absolute passion for providing value.
All three are excited to collaborate to apply their knowledge and experience to helping future Archadeck clients create their dream outdoor living spaces.
To learn more or schedule a complimentary design consultation, visit https://coloradosprings.archadeck.com/.
About Archadeck Outdoor Living
Archadeck Outdoor Living is North America's largest designer and builder of custom decks, screened porches, patios, sunrooms, outdoor living rooms, outdoor kitchens and other outdoor living structures. Qualified Remodeler and Remodeler Magazine consistently rank Archadeck at the top of their respective annual "Best" lists. Archadeck projects have graced the covers of Gardens, Decks and Patios and Decks & Backyard Projects. The company has been featured in articles in This Old House, Smart Money, Coastal Living, Better Homes & Gardens and Gardening & Deck Design, as well as on HGTV. Additional information can be viewed at http://www.Archadeck.com/.