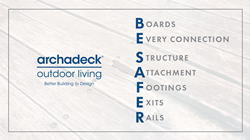 RICHMOND, Va. (PRWEB) May 14, 2020
Each year the North American Deck and Railing Association (NADRA) raises awareness of deck safety during the month of May. As the nation's leading builder of decks and outdoor living spaces, Archadeck Outdoor Living is joining NADRA in this effort and urging homeowners to get their decks inspected during a time where families are expected to stay home more than ever before.
"Due to these unprecedented times and staying home with our families, Archadeck wants to help ensure decks are safe and up to code," said Mike Reeder, Vice President of Archadeck. "Many decks nationwide are past their useful life and need to be replaced or repaired, so it's crucial homeowners have their decks inspected by an expert to verify the integrity and help prevent injuries."
To help ensure safety, especially for decks that are more than 10 years old, Archadeck is sharing seven deck safety inspection guidelines with the acronym of "BE SAFER":

Boards: Look at the condition of your deck boards. While most wood will show some minor cracks and splits over time, boards should be good and not rotting or damaged.
Every Connection: Decks should be built using a variety of fasteners and metal hardware connectors. Check every connection on the deck to make certain that they are not corroded or compromised. Look for nails backing out, red rust and other signs of corrosion that can weaken the integrity of the deck.
Structure: If visible, look at the posts, beams and joists that provide the structural framework of the deck. Is there any noticeable sagging between supports?
Attachment: The attachment of the deck to the house is where most deck failures occur. Ensure that the deck is properly attached to the house with bolts and is properly flashed for water protection. Nails should never be used.
Foundation / Footings: The foundation / footings support the weight, also known as the load, on a deck and the columns that bear on them. A footing that is sinking may cause a noticeable sag in an area or a column to separate from a beam.
Exits: Check the areas where people exit from the deck, usually stairs. Check the condition of the material used on the stair stringers, stair treads and risers. Do the stairs require a handrail? Is there adequate lighting to safely use the exits at night?
Rails: Look at the condition of the rail posts and sections of railing to make sure that they aren't loose or wobbly. Verify that the pickets/balusters are fastened securely and spaced no more than four inches apart.
For a professional deck safety inspection, please contact your local Archadeck at 888-687-3325 or visit http://www.archadeck.com/.
About Archadeck Outdoor Living
Archadeck Outdoor Living is North America's largest builder of custom designed and built decks, screened porches, sunrooms, outdoor living rooms, outdoor kitchens and other outdoor living structures. Qualified Remodeler and Remodeler Magazine consistently rank Archadeck at the top of their respective annual "Best" lists. Archadeck projects have graced the covers of Gardens, Decks and Patios and Decks & Backyard Projects. The company has been featured in articles in This Old House, Smart Money, Coastal Living, Better Homes & Gardens and Gardening & Deck Design, as well as on HGTV. Additional information can be viewed at http://www.Archadeck.com/.