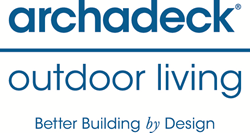 By designing and building beautiful decks and outdoor living spaces, I can play a part in helping people not only enhance the beauty of their outdoor spaces, but enjoy them like never before. I couldn't be more excited. -Chris Purvis
RICHMOND, VA (PRWEB) April 02, 2015
Archadeck is excited to announce that Christopher and Aurora Purvis have opened a new Archadeck Outdoor Living franchise location servicing Wilmington, North Carolina and the Cape Fear region.
Known as Archadeck of Cape Fear, Chris Purvis will design and build custom outdoor living spaces for clients, including screened porches, decks, outdoor kitchens, outdoor living rooms and fireplaces, pergolas, gazebos and more. Areas Mr. Purvis will service include Wilmington, Leland, Southport, Hampstead and surrounding areas in New Hanover, Brunswick and Pender counties. "We are thrilled to bring Archadeck to the Cape Fear area," said Chris Purvis. "We're excited to have this opportunity not only to help people realize the outdoor living space of their dreams, but to add value to their homes and quality of life through our superior design and building services."
After serving in the Air Force for 13 years, Mr. Purvis discovered the Archadeck business opportunity while pursuing the next step in his career path. With his wife Aurora's background in interior design and the ability to apply his own leadership experience and vision to building the Archadeck business in Cape Fear, Chris Purvis felt the opportunity was the perfect fit. "After spending many years in the military and having formal leadership and systems training, I'm excited to have this opportunity without any limitations to grow the Archadeck business for my family," explained Mr. Purvis. "By designing and building beautiful decks and outdoor living spaces, I can play a part in helping people not only enhance the beauty of their outdoor spaces, but enjoy them like never before. I couldn't be more excited."
"We are excited to have Chris Purvis join the Archadeck family," announced Rob Haislip, Vice President of Operations of Archadeck. "He not only has the enthusiasm and management background that we look for in new partners, but the leadership and attention to service and quality that will help him build a successful business."
Archadeck, established in 1980, has built more than 100,000 outdoor living projects across the country and is recognized as the largest deck and porch builder in North America. A part of Outdoor Living Brands, the Archadeck mission is "to enhance the lives of our customers by creating unique and innovative outdoor living environments."
Qualified Remodeler and Remodeler Magazine consistently rank Archadeck at the top of their respective annual "Best" lists. Archadeck projects have graced the covers of Gardens, Decks and Patios and Decks & Backyard Projects. The company has been featured in articles in This Old House, Smart Money, Coastal Living, Better Homes & Gardens and Gardening & Deck Design, as well as on HGTV. Additional information can be viewed at http://www.archadeck.com.