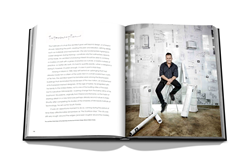 "Our firm has completed award-winning projects across the globe, but without a doubt, this book is the most meaningful project of my career," said Kobi Karp, Architect. "Beyond merely a retrospective of some of my more notable works, this publication is a deep, personal look into my soul."
MIAMI (PRWEB) December 18, 2020
Kobi Karp Architecture and Interior Design, Inc., a world-renowned architectural firm providing a complete spectrum of planning, architecture, and interior design services, announced a Kobi Karp branded "coffee table" book published by iconic luxury book publisher, Assouline, with introduction written by well-known architectural writer, Ian Volner. For over 25 years, the Kobi Karp firm has completed more than $38 billion in award-winning projects worldwide.
Known worldwide for bringing the world of luxury to the publishing industry, Assouline produces one-of-a-kind books on fashion and design, weaving a story of L'Art de Vivre with every publication. The hand sewn binding, distinctive graphic identity and editorial savoir-faire, make Assouline's books exceptional and iconic. Karp's new book examines his vision and original body of work showcasing his inventive, innovative and unique non-static designs for private residences, hospitality, retail and high-rise resident developments. The historic Surf Club and Four Seasons, Fisher Island, private residences on North Bay Island and La Gorce Island are all featured in this monograph.
Karp's book explores his depth and breadth of thinking through time, and how he accepts life and design challenges with a core set of issues. Sharing a passion for multiple designs in different eras, each page illuminates what has been important to Kobi from around the world.
Written by architectural writer Ian Volner, Karp's book may be purchased online: http://www.assouline.com for $175. More information available at http://www.kobikarp.com/. Photos and more info from recent book signing: https://worldredeye.com/2020/12/qa-renowned-architect-kobi-karp-collaborates-with-assouline-to-publish-luxury-coffee-table-book-at-assouline-bal-harbour-shops/.
About Kobi Karp: For over two decades, Kobi Karp Architecture and Interior Design (KKAID) has been providing unique, creative and innovative design solutions to renowned clients internationally and domestically in Hospitality, Retail and high-rise Residential developments. To date, KKAID Design has designed over $38 billion in mixed-use Commercial, Residential and Multifamily properties worldwide from the Caribbean, to the Far East, to the Black Sea region, throughout the Gulf and the Middle East. For more information visit https://www.kobikarp.com or contact (305)573-1818 or email Info@KobiKarp.com. License Number AA 0003023.
###