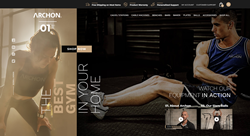 "Gym equipment is usually a big commitment both in terms of cost and space [...]" said Alexa, digital strategist at Digital Silk. "This is why we focused on video and interactive 3D elements to give users an engaging and comfortable shopping experience."
NEW YORK (PRWEB) December 09, 2020
Archon Fitness, the designer and manufacturer of high quality and affordable gym equipment, launched a new online store with a global digital agency Digital Silk.
In terms of user experience (UX), the store provides easy navigation through the brand's robust product catalogue. It pairs products with demo videos and interactive 3D models to help users evaluate the equipment's features.
The digital strategist behind the project Alexa Fernandez highlighted multimedia as central to Archon buyers' on-site experience and purchasing decisions.
"Gym equipment is usually a big commitment both in terms of cost and space, so our research showed that our target buyers needed more information than your average customer before committing to a purchase," said Alexa, digital strategist at Digital Silk. "This is why we focused on video and interactive 3D elements to give users an engaging and comfortable shopping experience."
In addition to the engaging UX, the new site sports a bold interface reflective of the brand's visual identity and "passion about [their customers'] fitness goals."
Digital Silk's designers translated Archon's powerful image using clean and dynamic typography, as well as the brand's video and photography showing products in action. These elements rest on the backdrop of a luxurious gold and black color palette which communicates quality and aligns with the brand's bold identity.
"Everything we do must maintain our high quality standards and must be designed with our customers' needs in mind," said Don Sprouse, founder of Archon. "We carried this commitment to our website to give our customers a safe and convenient space to shop in."
About Archon:
Archon Fitness designs and manufacturers eponymous gym equipment for professional and home use. The brand's mission is to offer the best exercise equipment both in quality and affordability.
About Digital Silk:
Digital Silk is a creative digital agency focused on growing brands online. From custom websites to digital marketing, Digital Silk creates SUPERIOR digital experiences to drive higher conversions, greater brand engagement & measurable results.