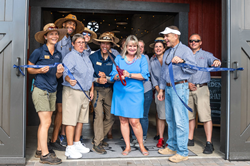 The grand opening celebration highlighted the second-to-none way of life provided by Arden, known as one of the nation's preeminent 'Agrihoods,' that is now setting the pace for the increasing demand for similar health and wellness focused amenities.
PALM BEACH COUNTY, Fla. (PRWEB) November 05, 2019
Freehold Communities held the ceremonial ribbon cutting and grand opening celebration for the sprawling five-acre farm and central barn at Arden, South Florida's stunning and first-ever "Agrihood," on November 2. An amenity for all the neighborhoods, the farm and barn offer the best in farm-to-table living year-round. The spectacular grand opening showcased Arden's lifestyle for the approximately 900 local leaders, press, residents and members of the public who came together to celebrate the unforgettable community.
"The grand opening celebration highlighted the second-to-none way of life provided by Arden, known as one of the nation's preeminent 'Agrihoods,' that is now setting the pace for the increasing demand for similar health and wellness focused amenities," said Andrew Smith, Division President of Freehold Communities. "With a reputation for being an outdoor playground for active families, couples and individuals who love the great outdoors and a vibrant social life, the entire celebration showcased all Arden has to offer for a wider-audience."
Kelley Burke, Palm Beach County District 6 Chief of Staff, joined top executives from Freehold Communities in the ribbon cutting that was followed by a wide range of fun and entertaining grand opening activities. The activities included: cooking demos by celebrated Bean Scene Founder and Chef Nina Kauder using produce grown at Arden; farm tours and farmers markets; live music from the popular area band Steel Band Delight; community mural painting; insect investigation with an expert entomologist; rock painting in the children's garden; and much more.
Arden's lush and expansive farm is developed and maintained by its two experienced, full-time farm directors Carmen and Tripp Eldridge. They led the farm tours at the grand opening celebration and were on-hand to share their in-depth knowledge of the full spectrum of food production with attendees. The community's full-time Lifestyle Director Donald Smith helped develop and plan every aspect of the grand opening celebration's activities.
Arden provided golf cart shuttles for the grand opening to pick up attendees and take them to all the festivities. Regular trolleys were available to transport guests to the spectacular model homes from the community's collection of renowned homebuilders that includes Kenco Communities, Lennar and Ryan Homes.
Throughout the year at Arden, residents share in the community's harvest of farm-fresh fruits, vegetables and herbs, take classes in the barn, and volunteer to help plant and tend to the crops. Combining the endless beauty of mother nature with modern conveniences, Arden boasts 20 miles of skillfully mapped and landscaped scenic walking, hiking and biking trails nestled around beautiful Arden Lake where residents fish, canoe and kayak. And nearly every homesite in the community backs up to a park, greenway or nature trail.
In addition, Arden offers a luxurious and relaxing Lakehouse with two resort-style pools, a tranquil pool and spa, WiFi café, state-of-the-art fitness center, on-demand Wellbeats studio, a basketball and pickleball court, four illuminated Har-Tru tennis courts, a soccer field and playgrounds.
The Southeast Building Conference (SEBC) recently honored Arden with the prestigious "Master-Planned Community of the Year" award at its 40th Annual Aurora Awards, one of the nation's premier residential and commercial design competitions. The Aurora Awards are hosted by the Florida Homebuilders Association and affiliated with the respected National Association of Homebuilders.
Conveniently located on Southern Boulevard, Arden offers direct access to major highways, including the Florida Turnpike, I-95 and the airport. The community is minutes from A-rated schools, top hospitals, a brand-new Publix shopping center, five-star dining and entertainment venues, the best in retail shopping, and the state's top equestrian sports venues in Wellington.
To learn more, please visit http://www.ArdenFL.com or call (561) 461-5501 today.
###
About Arden
Master-planned by the visionary development team of Freehold Communities, Arden was brought to life by an impressive collection of top-quality homebuilders, including Ryan Homes, Lennar, and Kenco Communities. Located at 660 Arden Lake Way, Wellington, FL 33470, Arden is just minutes from A-rated schools, top hospitals, five-star restaurants, and the state's leading equestrian sports venues. To learn more about Arden's award-winning community, homes, and amenities, visit http://www.ArdenFL.com.
About Freehold Communities
Freehold Communities, headquartered in Boston, MA, is currently developing approximately 10,000 residential lots in Texas, Tennessee, North Carolina, Florida and California. Freehold creates Vital Communities™ that embrace healthy living, engagement, connectivity, stewardship and distinctive home design. As it evaluates opportunities, the company focuses on the right planning, the right properties and the right partners. Beginning with comprehensive research to gain insight into the unique needs, trends and preferences in the local market, Freehold carefully considers each property to determine how to best maintain its beauty and character to create a Vital Community™ by partnering with quality, creative builders who share Freehold's philosophy of offering niche solutions and unique, timeless designs.