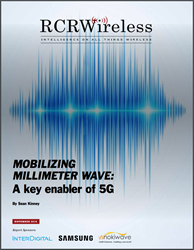 "Operators urgently need more spectrum to deliver the endless array of services that 5G will enable – our 5G future depends heavily on the decisions governments are making in the next year as we head into WRC-19," Brett Tarnutzer, Head of Spectrum, GSMA, said in a statement.
AUSTIN, Texas (PRWEB) November 30, 2018
A new report published this week by RCR Wireless News, an Arden Media Company publication, digs into the opportunities and challenges operators will navigate as 5G networks, supported by millimeter wave frequencies, are commercialized and scaled.
Millimeter wave frequencies are key to early 5G launches by U.S. operators. Device support is available now and set to pop throughout 2019 and regulators around the world are working to allocate high-band spectrum.
Verizon is currently using its millimeter wave spectrum to deliver residential broadband with plans to offer a mobile service early next year. AT&T is working to deliver mobile 5G in 12 markets by the end of this year also using its millimeter wave holdings.
Given the level of ecosystem alignment and projected acceleration throughout 2019, this report takes stock of how millimeter wave is being used today, and how it will be leveraged to deliver enhanced mobile broadband.
RCR Editor in Chief Sean Kinney explores the issue in a new report titled, "Mobilizing millimeter wave—a key enabler of 5G," and in an accompanying webinar featuring Alastair Upton, senior vice president of business development for Anokiwave, and Phillip Leithead, a member of the technical staff focused on R&D for InterDigital.
For more information on millimeter wave and 5G, explore the following pieces:

About Arden Media Company:
Through RCR Wireless News, Enterprise IoT Insights and In-Building Tech, Arden Media Company has one of the industry's largest and most engaged communities of ICT decision makers. We offer a full list of turnkey lead generation and marketing programs, including editorial sponsorships, webinar, white paper syndication, trade show optimization, dedicated emails, custom written and video content, event product and talent acquisition.
About RCR Wireless News:
Since 1982, RCR Wireless News has been providing wireless and mobile industry news, insights, and analysis to mobile and wireless industry professionals, decision makers, policy makers, analyst and investors. Our mission is to connect, globally and locally, mobile technology professionals and companies online, in person, in print and on video. Our dedication to editorial excellence coupled with one of the industry's most comprehensive subscriber databases and digital networks, leads readers and advertisers to consistently choose RCR Wireless News over other industry publications. Follow us on Twitter @rcrwirelessnews, join our Linkedin Group, and like us on Facebook.