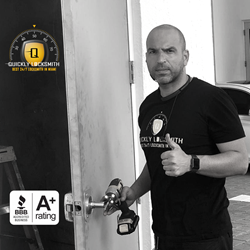 If for any reason you do run into trouble with a local locksmith, know that you do have options in terms of reporting the issue.
MIAMI (PRWEB) May 01, 2021
If you're going to trust someone to tamper with the locks of your home or vehicle, you want to know you can trust them. And in the event that something does go wrong, can you report that locksmith?
Locksmith licensing and regulation is a controversial topic. Some states require all locksmiths to have and carry a license, while others don't. On the plus side, even if you live in a state where a license isn't required, there are ways to report a scam locksmith.
Let's start by looking at which states require licenses in America.
Locksmith Regulations – State Licensing Requirements:
1. Alabama. Any locksmith operating in Alabama needs to apply for a license. Licensing requirements include location, proof of liability insurance, a background check, and educational testing. They also need to pay a licensing fee.
2. California. If you want to perform locksmith duties in California, you need to apply for a license through the Bureau of Security and Investigative Services. It is illegal to operate otherwise.
3. Connecticut. Locksmiths in Connecticut need to register with the state by completing a Locksmith Registration form. A criminal history report and FBI criminal background check are also required, along with the necessary application fee.
4. Illinois. Anyone who plans to work in private security in Illinois, including locksmiths, requires a license from the Department of Professional Regulation. Not only do you need to be over the age of 21, but you also need proof of insurance and to successfully pass an exam.
5. Louisiana. The Louisiana State Fire Marshal is responsible for managing locksmith licensing in this state. Proof of liability and worker's compensation insurance is required, as is a background check.
6. Maryland. Locksmiths in the state of Maryland need to apply for a license via the Department of Labor. Fingerprints, a background check, and proof of liability insurance are requirements.
7. Nebraska. Applying for a locksmith license in Nebraska is as simple as filling in a short form and paying a small licensing fee to the county clerk. You will need to provide three character references though.
8. New Jersey. The New Jersey Board of Examiners of Electrical Contractors takes care of locksmith licenses in New Jersey. Applicants must be at least 18 years old, pass a background check, and be able to maintain a surety bond of no less than $10,000.
9. Nevada. Locksmiths in Nevada need to apply for a license from the sheriff of the county in the area where their business is located. An application and personal history form need to be completed.
10. North Carolina. Licensing is handled by the North Carolina Locksmith Licensing Board. To apply, a background check and examination need to be completed. A small fee is also required.
11. Oklahoma. Locksmiths in Oklahoma need to be at least 21 years old and be cleared as competent by a judge. They should also meet other standards outlined by the Board relating to the locksmith sector.
12. Oregon. To apply for a license, locksmiths in Oregon need to complete an online application, submit a criminal history report, and take a locksmith certification test. All of this can be done on the Oregon.gov website.
13. Tennessee. The commissioner of Commerce and Insurance handles locksmith registration and licensing in Tennessee. Not only is a written and practical exam required, but a background check too.
14. Texas. To operate as a locksmith in Texas, you need to register with the Texas Board of Public Security. A background check is required, as is proof of liability insurance. All licenses are processed and managed by the Texas Locksmith Association.
15. Virginia. In the state of Virginia, locksmiths need to complete the 25E Locksmith Entry-Level Program as well as the general application process. There is also a small fee that's payable to obtain a license.
All other states that don't appear on this list might not necessarily require a locksmith to have a license, but some do have their own laws.
For example, Quickly Locksmith in Miami is required to have at least one licensed locksmith in our employ in order to operate in the state of Florida.
Reporting a Locksmith – What are Your Options?
If you ever find that you've been scammed by a locksmith or paid for services with an unqualified locksmith who caused damage, there are a few ways to report them.

Contact Your Local Locksmith Association:
If your state does have an official locksmith association, they should be your first point of contact. If the locksmith is not registered with them, they can tell you how to potentially take the matter further.

Contact the Federal Trade Commission:
There is also the option to file a complaint with the Federal Trade Commission. While they cannot resolve the complaint for you, they can include your information in their resources to submit a larger penalty later on. You can file your complaint on the FTC website or contact their Consumer Response Center.

Contact Your State's Consumer Protection Office:
Your state's consumer protection office can also assist you with these types of complaints. What's more, unlike the Federal Trade Commission, the consumer protection office can resolve the complaints on your behalf.

Contact the FBI's Internet Crime Complaint Center:
If you found a locksmith's details online, you have the option to report it to the FBI's Internet Crime Complaint Center. This unit investigates false or fraudulent online claims and can help build a case against a scam locksmith.
How Difficult It Is Really to Become a Locksmith?
With the locksmith scams that are currently doing the rounds, you might be wondering how difficult it is to become a locksmith.
The truth is that reputable locksmiths need to undergo specialized training in order to offer the services they do. And depending on where they reside, they need to follow state-specific licensing laws too.
Basically, locksmithing is not something you can decide to start doing overnight.
Unfortunately, beyond a license, there are very few ways to regulate locksmiths, which is why you also need to do your due diligence.
Reputable locksmiths such as Quickly Locksmith will have all the necessary qualifications, licenses, and insurance in place, and can prove it. They will also have a website, social media presence, and reviews for you to read through.
It shouldn't ever be difficult for you to find information on a potential locksmith. Nor should they be reluctant to answer any of your questions.
If for any reason you do run into trouble with a local locksmith, know that you do have options in terms of reporting the issue.