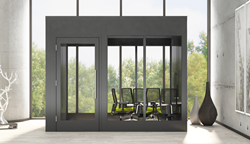 "Zonez has created the first modular room I have seen that checks all the boxes. The room looks beautiful and the Zonez system is built to adapt to stringent code requirements. It is the most complete solution I have seen." Mike PGeneral Contractor, Principal
ORANGE, Calif. (PRWEB) May 27, 2021
Modular construction has grown in popularity over the past decade as companies appreciate the speed and cost benefits of modular construction. In the post pandemic world, modular rooms are now more popular than ever.
Zonez http://www.zonez.com, a division of Allied Modular http://www.alliedmodular.com, which has more than 30 years of experience, is announcing the launch of its new 10' X 10' modular collaboration suite. The Zonez Collaboration Suite connect easily to the real world by utilizing a proprietary air flow system and fully modular grid ceiling.
Beautiful design meets practical application with the new Zonez Collaboration Suite. "A majority of modular solutions are designed without construction and code compliance in mind. Most manufacturers live in Europe or design IKEA grade products which are offered direct to customers who do not understand code compliance in the US," said Sande Golgart, President of Zonez.
Golgart added, "There are basic requirements that must be met in any room that include a minimum ceiling height, fire suppression and air flow. Most manufacturers do not meet the most basic interior height requirements. I have seen warehouses filled with expensive modular rooms from Europe that customers have spent hundreds of thousands of dollars on that cannot be installed due to these limitations."
Zonez new line of modular solutions now enable companies to buy with confidence. Before you spend money on a modular solution, check to make sure the minimum requirements have been met by your manufacturer. For information about the International Building Code and other code requirements, contact Zonez at sales@zonez.com.
Zonez currently operates out of three facilities across the country.
For interview requests, please contact sales@zonez.com
For more about the innovative Zonez soundproof privacy solutions or to request a quote, click here: https://zonez.com/privacy-suites/