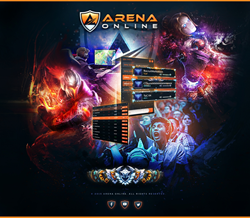 We are trying to fill a big need in the eSports world, so it was easy for investors to see our path.
HOUSTON, TX (PRWEB) June 22, 2015
After finalizing their first round of funding for $750,000 in April, Arena Online and its team lead by Alan Hubbard, are building an online platform to bring competitive eSports tournaments to a powerful world of online gamers – beginning with League of Legends by Riot Games.
Until now, eSports tournaments offering cash prizes in such games as the universally popular League of Legends were reserved for elite gamers with top rankings. It was nearly impossible for average players to compete in tournaments; especially for any chance of winning cash prizes.
Electronic Sports (eSports) is a term used for organizing online multiplayer gaming, and has grown rapidly over the last 5 years thanks to new streaming platforms like Twitch.tv. In 2013, an estimated 71 Million people viewed some form of competitive gaming through online channels. Now eSports has the eye of sports' largest broadcaster, ESPN, with plans to expand coverage.
These numbers correlate with the whirlwind trajectory Hubbard has already seen for Arena Online since bringing together his development team in late Fall of 2014. Blog: eSports Only Beginning to Scratch the Surface
"We are trying to fill a big need in the eSports world, so it was easy for investors to see our path," Hubbard said. "I officially quit my full-time job in October to lead Arena Online after it became clear that our investment conversations were going to move quickly."
Those conversations resulted in a $750,000 Seed Round lead by a couple of key investment voices in the Houston market including business incubator, START Houston, as well as the Founder of the investment firm, Presidio Venture Capital.
In addition to securing his team of investors, Hubbard has also built an Advisory Board comprising more than 25 years of experience in guiding businesses across the country and among various industries.
Tom LaPlante (LinkedIn) of Dallas is a business and technology visionary skilled in monetizing innovative ideas and implementing systems & processes that maximize revenue. He brings knowledgeable project management experience to the table from his previous work as CIO of TopGolf, and Director of IT at Harrah's Entertainment.
Jeff Harder (LinkedIn) of Houston is one of the country's top corporate attorneys, and brings a sharp mind for corporate business structure to Arena Online.
Dai Truong (LinkedIn) of Austin works directly with Venture Capital & Private Equity, most recently as an Associate with Austin Ventures, which boasts a 30-year history of working with $3.9 Billion in raised capital. Truong joins the Arena Online Advisory Board independently of his position with Austin Ventures.
Currently, Hubbard's team of developers are working to complete the initial website that will eventually house their first tournament platform dedicated to League of Legends play – the first step in their mission to bring eSports to Everyone.
"Our website will provide statistics and rank players by what position they play for League of Legends," Alan said. "This is a feature we plan to incorporate into Arena Online's Tournament Platform that is scheduled to release later this year."
Other online gaming communities, like fantasy sports leagues or digital poker, have advanced platforms to organize and run online tournaments, with players winning thousands of dollars every day. League of Legends tournaments are often run by individuals using tournament management tools – making tournaments unorganized, difficult to participate in, and hard to even find.
"The Arena Online platform will feature League of Legends and utilize Riot Games API, which is how we are able to offer legitimate automated tournaments, track custom player stats, and match players fairly ensuring everyone has a chance to win," Hubbard said.
League of Legends is only the first of what Hubbard hopes to be many eSports tournaments organized through his website. Arena Online released their stat tracking website this week with a Kickstarter campaign to follow shortly after.
"Our initial funding allowed us to build the site the way it deserves to be done and now we would like to take our vision to the people to see if it is something they find worthy of lifting up through crowd-funding," Hubbard said.
###
About Arena Online
Arena Online's mission is to bring tournament gaming to eSports players who ordinarily wouldn't be able to compete for cash prizes. Their dedication to creating something original extends into their plans to always provide equal pairings, advanced statistics monitoring, and rich content all on an automated-platform.