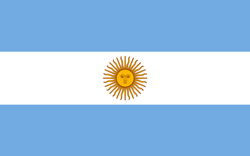 "The Argentinians know how to BBQ just as well as they can play football." -- Peter Frank
São Paulo, Brazil (PRWEB) July 01, 2014
Switzerland are hoping the large Brazilian crowd at the Corinthians arena in Sao Paulo will be backing them against the hosts' arch-rivals Argentina. Argentina will be without the injured Manchester City forward Sergio Aguero, with Ezequiel Lavezzi set to take his place in a continued three-man attack also comprising Messi and Gonzalo Higuain of Napoli.
To celebrate the World Cup, Creative Electronic Products Inc. the company who brought the popular electronic propane gauge (The Propane GasGenie) to the US market, are sharing BBQ recipes from all over the world.
Creative Electronic Products Inc have scoured the Internet looking for the best Argentinian BBQ recipes and have included their top recipe below.
Tira de Asado - Argentinian-style Grilled Beef Ribs
Ribs are one of the first items served from the grill in a traditional asado, or grilled feast - enjoyed before other cuts of meat that require more time to cook. But these ribs make a great main course too, served with grilled plantain and coconut rice for example.
1) Place the ribs on a plate or platter, and sprinkle both sides generously with the kosher salt. Let ribs sit at room temperature while the grill is heat.
2) Heat the grill to medium-high (using charcoal with some wood chips for best flavor). Grill ribs for 4-6 minutes on each side.
3) Serve right off the grill with chimichurri sauce on the side.
The full recipe will appear on the Company's blog and Facebook page.
"The Argentinians know how to BBQ just as well as they can play football." -- Peter Frank
About Creative Electronic Products Inc
Creative Electronic Products Inc are dedicated to sourcing innovative electronic products that solve common problems for everyday consumers. Their first product, the Propane GasGenie, has proved a big success with grilling enthusiasts all over the US. For more info on the Propane GasGenie, visit http://www.propanegasgenie.com. To play Hamburger Frisbee and grab your chance at winning a Propane GasGenie, visit http://www.propanegasgenie.com/fun-and-games/.