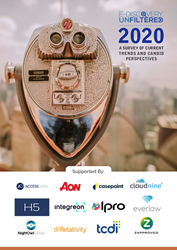 The annual E-Discovery Unfiltered report from Ari Kaplan Advisors is one of the most valuable business intelligence resources available for legal professionals and e-discovery customers.
NEW YORK (PRWEB) July 17, 2020
Ari Kaplan Advisors, a leading legal industry advisory company, released its 6th annual E-Discovery Unfiltered: A Survey of Current Trends and Candid Perspectives report, which features insights from corporate law department leaders and law firm partners about 29 e-discovery vendors* and a variety of popular trends. The report highlights e-discovery pricing patterns and preferences, projected investments, the impact of the cloud, outsourcing and remote review shifts, vendor selection criteria, and the need for international e-discovery, among other topics.
Between January 22, 2020 and March 6, 2020, legal industry analyst, Ari Kaplan, personally interviewed 27 individuals responsible for e-discovery decision-making, including eight in-house lawyers, eleven in-house administrative e-discovery leaders, and eight law firm partners. 100% develop and implement e-discovery processes, and select e-discovery tools and vendors. 96% influence their organization's e-discovery budget. Of the 19 respondents from corporations, seven are in life sciences, three are in insurance, three are in telecommunications, two are in financial services, two are in manufacturing, and two are in technology. 89% work for companies with revenues that exceed $10 billion and have over 10,000 employees. All eight of the law firm partners work for large law firms and serve as primary e-discovery counsel.
The most frequently cited trends for 2020 were applying analytics beyond litigation, vendor consolidation, project management, the impact of artificial intelligence on discovery and contract review, remote review, increased regulatory requirements, social, mobile, and cloud data, and searching and interpreting emojis, ephemeral messages, and non-custodial persistent communications. The leading areas of investment noted for 2020 were software, training, data mapping, and automation.
The report's key findings include:

91% of corporate respondents highlighted that the law department's internal team selects both software vendors and outside service providers.
95% of corporate respondents agree that legal departments are bringing more of the e-discovery process in house.
21% of corporate respondents have seen their e-discovery budgets and average spend per matter increase.
16% of corporate respondents are willing to work with a provider that outsources elements of its e-discovery.
Prior to the pandemic, 58% of corporate respondents and 50% of law firm partners expressed a willingness to work with companies that offer remote document review. The current crisis has generally prompted many to reconsider their concerns with this approach, assuming an appropriate level of security.
37% of corporate respondents and 38% of law firm partners are open to off-shoring their e-discovery.
89% of corporate respondents and 75% of law firm partners prefer to access their software solutions in the cloud.
68% of corporate respondents and 63% of law firm partners need international discovery.
53% of corporate respondents noted that the GDPR has impacted their approach to data retention and discovery.
In addition to offering public trends, Ari Kaplan Advisors prepares individual reports for subscribing vendors providing both detailed insights from their target customer base along with a comprehensive SWOT analysis to help guide their sales and marketing initiatives. "Candid opinions regarding service delivery are often hard to come by in the ALSP [alternative legal service provider] space and Ari Kaplan Advisors is able to consistently elicit valuable insights from the market and aggregate them into a digestible format," said Jamie Berry, executive vice president for litigation services at Integreon. "That detailed feedback has become a foundational element for critical, introspective conversation amongst our leadership team and as Integreon continues to seek ways to innovate and meet client needs, we rely on the work product that Ari Kaplan Advisors provides."
In 2020, the complete list of companies studied includes:
1. AccessData
2. Alix Partners
3. Aon/Stroz Friedberg
4. Casepoint
5. CloudNine
6. Cobra
7. Complete Discovery Source
8. Conduent
9. Disco
10. Epiq
11. Ernst & Young
12. Everlaw
13. Exterro
14. FTI
15. H5
16. Integreon
17. Ipro
18. Lighthouse
19. Logikcull
20. NightOwl Global
21. Nuix
22. ProSearch
23. Relativity
24. RelativityOne
25. RVM
26. TCDI
27. TransPerfect
28. TrustPoint
29. Zapproved
"The annual E-Discovery Unfiltered report from Ari Kaplan Advisors is one of the most valuable business intelligence resources available for legal professionals and e-discovery customers," said David Horrigan, discovery counsel and legal education director at Relativity. "For 2020, Ari examines 29 companies and goes under the hood with the legal teams who practice e-discovery and use e-discovery tools so as the name implies, it is an unfiltered, unabridged analysis because people tell Ari things they don't tell the rest of the world."
"In the past six years, the E-Discovery Unfiltered report has gathered over a hundred hours of research to track the most impactful trends that are driving change and to understand the perception of companies that are pushing e-discovery forward," said Ari Kaplan, the author of the E-Discovery Unfiltered report. "In addition to helping vendors validate or shift their strategies, it gives e-discovery practitioners an opportunity to benchmark their internal protocols."
Contact Ari Kaplan Advisors for a series of infographics that summarize the report's findings and additional guidance on its Unfiltered sales training programs.
*The list of vendors under review is not meant to be comprehensive and the inclusion of a company in the discussion is not designed to indicate any market position. A primary purpose of the report is to provide the companies who invest in its content with direct insight on their businesses and an overview of their competitive landscape.
About Ari Kaplan Advisors
Ari Kaplan Advisors is a leading legal industry advisory company that publishes benchmarking reports on legal technology trends, delivers networking, public speaking, and business development training for law firms and other providers of professional services, and offers personal coaching and access to its proprietary coaching software platform, http://www.Lawcountability.com. For the past six years, the consultancy has published E-Discovery Unfiltered: A Survey of Current Trends and Candid Perspectives to provide leading vendors with insights about their businesses from members of their target audience, as well as their views on a range of key trends. Company principal, Ari Kaplan, is an inaugural Fastcase 50 honoree, a fellow of the College of Law Practice Management, and a finalist for the International Legal Technology Association's Thought Leader of the Year award. Learn more about Ari Kaplan Advisors at https://www.AriKaplanAdvisors.com and the E-Discovery Unfiltered report at https://www.e-discoveryunfiltered.com.