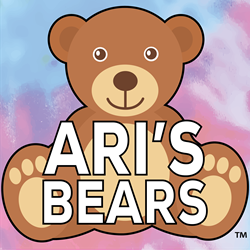 BALTIMORE (PRWEB) September 28, 2020
Ari's Bears, a not-for profit organization started by 10-year-old Ariella Stein, announced that it has selected Georgetown Lombardi Comprehensive Cancer as the recipient of a $30,000 grant, with the funds designated for Dr. Jeffrey Toretsky and the Pediatric Ewing Sarcoma Research Fund. Dr. Toretsky is conducting a clinical trial, currently in phase 2, on a targeted drug dubbed TK216.
This announcement, which was made during Childhood Cancer Awareness Month, marks the expansion of Ari's Bears to include the provision of grants for pediatric cancer research. The foundation was initially created to provide comfort and bears to children in hospitals.
According to Erica Stein, Ariella's mom and president of Ari's Bears, the decision to expand the foundation's reach while supporting Dr. Toretsky's research is personal. "Ariella was diagnosed with Ewing Sarcoma, one of the rarer childhood cancers. The treatments she received throughout her initial diagnosis and then again during her relapse were developed decades ago. There is a severe shortage of federal research dollars for pediatric cancer research, which prevents scientists from developing innovative and effective treatments for children like Ariella. Dr. Toretsky's research focuses on creating new and less toxic treatment options that we hope will benefit other families who have watched their children battle this insidious disease."
On Tuesday, September 29, 2020 at 7:30PM EST, Ari's Bears will host a virtual conference where Dr. Toretsky will present his work, discuss the clinical challenge of Ewing Sarcoma, and provide a synopsis of his research program that led to the TK216 drug in clinical trial. The event is free and open to the public, but registration is required: https://arisbears.org/events/dr-toretsky-zoom-conference/. A link will be provided to those who register.
About Ari's Bears
Ari's Bears, a 501(c)(3) nonprofit organization, funds pediatric cancer research, provides scholarships to pediatric cancer survivors, and delivers bears and other stuffed animals to sick children in hospitals. The brainchild of 10 year-old Ariella Stein, who at the time was undergoing grueling treatment for Ewing Sarcoma, the organization started with a simple idea: Ariella used her own money to purchase and make stuffed animals to deliver to other pediatric patients. When Ariella passed away at age 11 from complications from a bone marrow transplant, she had already delivered "Ari's Bears" to seven local hospitals and respite houses. And her legacy is still being written. Since its inception in 2018, Ari's Bears has gifted more than 2,000 bears and other stuffed animals to children in hospitals. To learn more, please visit https://arisbears.org.