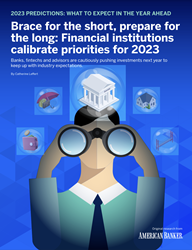 "Despite a shared negative economic outlook across communities, leaders are identifying areas for growth to keep pace with competitive pressure and customer expectations. From tech investments to shifting consumer behavior, businesses are anticipating opportunities amid the challenges."
NEW YORK (PRWEB) January 05, 2023
Arizent, a leading business information resource for financial and professional services, has published 2023 Predictions Reports for four brands — American Banker, Financial Planning, National Mortgage News and Digital Insurance — which examine perspectives on inflation and regulation, technology pain points, critical industry trends and more. Although forecasts vary by community, industry leaders' outlooks for a swift and full economic recovery in 2023 are fairly bleak.
The banking community's outlook was especially harsh, with more than half of participants saying they don't expect economic recovery until 2024. The wealth management industry is also facing unique challenges related to cryptocurrency crashes and their clients postponing retirement. Similarly, mortgage leaders are anticipating tighter budgets and a volatile year, while nearly half of participants from the insurance sector view a looming recession and rising inflation as the biggest threat to business growth.
"Despite a shared negative economic outlook across communities, leaders are identifying areas for growth to keep pace with competitive pressure and customer expectations," says Janet King, VP of Research at Arizent. "From tech investments to shifting consumer behavior, businesses are anticipating opportunities amid the challenges."
Even with the potential for reduced budgets, organizations across sectors are planning to continue investing in technology. Both banking and mortgage businesses are expecting technological investments for improving customer experiences. Half of respondents from the insurance industry also reported that they expect their tech spending to increase. In wealth management, firms are likely to invest in the right digital tools to improve advisor efficiency and effectiveness.
The report also found circumstances and forecasts unique to each community, including shifting priorities, workplace expectations, investment strategies and more. Some highlights include:
American Banker report: For banks and credit unions, they're expecting a continued commitment to ESG initiatives, but with less emphasis than in 2022.
Financial Planning report: In wealth management, despite 61% of respondents saying their firms' revenue decreased, only a small minority of advisors said they're likely to switch organizations during the upcoming year.
National Mortgage News report: Mortgage industry participants expressed that they are paying special attention to affordable homeownership initiatives from public policies under the Biden administration.
Digital Insurance report: Just one-tenth of insurance participants expressed that they would invest in insurtech startups in 2023, decreasing from one-third during the previous year.
About American Banker
American Banker empowers banking professionals with unique analysis and insight into the ideas transforming their business and industry. Across its journalism, events, research and benchmarking, it helps drive the way forward through the complexity of business innovation, retail and commercial disruption, technology, regulation, and reform. With a banking community 850K strong, American Banker's transformative content connects leaders online, in person and in print every day.
About Financial Planning
Financial Planning empowers financial advisors and wealth managers with essential analysis and insights into the ideas that are shaping their businesses. Through authoritative journalism, events, research and benchmarking, it helps firms drive their businesses and the industry forward, navigating the critical opportunities in practice management, wealthtech, investment strategies, tax and regulatory requirements. With a wealth management community of more than 600K, Financial Planning delivers unique content every day that connects leaders in person, in print and online every day.
About National Mortgage News
National Mortgage News is an award-winning comprehensive digital information resource serving the entire residential mortgage industry, including depositories, nonbank lenders and servicers, brokerage firms, vendors and regulators. In addition to providing news analysis and perspective, NMN convenes industry participants to provide insight on topics including regulation, compliance, technology and loss mitigation.
About Digital Insurance
Digital Insurance is the essential resource for senior executives leading the digital transformation of the insurance industry. Across events and member forums, original research reports, and editorial news and analysis, Digital Insurance examines business-critical topics in technology innovation, data advancements, insurtech market trends, and transformation strategies. The brand convenes the community around these transformational ideas and insights so they need to stay ahead of the competition and the real-world examples of impact that they can bring back to their companies.
About Arizent
Arizent is a business information company that advances professional communities by providing insights and analysis and convening industry leaders. The company uses deep industry expertise and a data-driven platform to deliver its services, which include subscriptions, marketing services, live events and access to Leaders, an executive forum. Arizent also connects business communities through leading financial services brands like American Banker, The Bond Buyer, Financial Planning and National Mortgage News, as well as professional services brands like Accounting Today, Employee Benefit News and Digital Insurance.