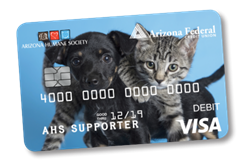 Every time a card holder makes a purchase, Arizona Federal will donate a percentage to the Arizona Humane Society.
PHOENIX (PRWEB) October 30, 2018
Locally-based Arizona Federal Credit Union has partnered with the Arizona Humane Society to offer the Arizona Humane Society Visa® debit card, benefiting AHS' lifesaving programs, services and pets.
"We're thrilled about our new partnership with the Arizona Humane Society, as part of our continued commitment to support the local community," said Arizona Federal Chief Operating Officer Jason Paprocki. "With the new Arizona Humane Society Visa debit card, we're able to provide an easy way for pet lovers to help support the Arizona Humane Society and its mission."
Every time a cardholder makes a purchase, Arizona Federal will donate a percentage of the transaction revenue to the Arizona Humane Society. The donations from the new card will support critical programs at AHS including its trauma hospital, animal rescues/investigations and community outreach programs.
As a special introductory offer, new Arizona Federal account holders can get the debit card and earn an additional $50 donation for AHS and $50 for themselves after they open a checking account and complete 10 or more debit card transactions in 45 days. Current Arizona Federal members can request the Arizona Humane Society Visa debit card by calling or stopping by their local branch. Cards can be issued on-the-spot at any Arizona Federal location.
"We're so excited about this partnership with Arizona Federal," said Bretta Nelson, Arizona Humane Society spokesperson. "The Arizona Humane Society Visa debit card will make it super easy for the community to support AHS' pets and make a difference right here in our own backyard. By using the card for their everyday purchases, cardholders can make a big impact with very little effort, simply by swiping their card!"
The new Visa debit card is available exclusively through Arizona Federal Credit Union.
About Arizona Federal Credit Union
Arizona Federal is a $1.6 billion not-for-profit financial cooperative providing financial services and expertise to more than 120,000 member/owners. Founded in 1936, the organization takes its mission of financial empowerment and mutual benefit to heart by providing members cutting-edge self-service tools and mobile apps, competitive rates on auto loans and home loans, financial coaches, identity protection services, and annual member payouts when the cooperative does well. Arizona Federal has 12 locations across the Phoenix metropolitan area. Deposits are federally insured by the National Credit Union Administration.
For more information: ArizonaFederal.org
About the Arizona Humane Society
The passionate belief that every pet deserves a good life has driven the Arizona Humane Society to serve a critical role in our community for more than 60 years. With a goal of ending animal suffering, we rescue, heal, adopt and advocate for sick, injured and abused animals. Visit our website, follow us on Twitter or like us on Facebook.