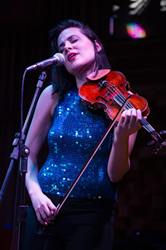 We never went away. We've always been here to distribute our physical products--CDs and DVDs--and licensing the music to various TV shows and films. But we've recently heard from the streaming services, and they all said, 'Hey, how come the Arkadia catalog's not out there on our platforms?'
RICHMOND, Calif. (PRWEB) January 21, 2022
Twenty-five years after its first CD release, Arkadia Records emerges in 2022 from a long quiet spell, revitalized and recalibrated for a changing music industry. The jazz label founded and run by Bob Karcy has embraced the digital musical landscape, releasing its complete catalog on the full gamut of online streaming platforms and preparing its first releases since the 2000s—including the newly recorded debut album by Brazil's Tetel Di Babuya, due for June 24 release.
The burst of new activity is not a "rebirth" per se: That would imply that Arkadia had undergone some sort of death. "We never went away," Karcy stresses. "We've always been here to distribute our physical products—CDs and DVDs—and licensing the music to various TV shows and films. But we've recently heard from the streaming services, and they all said, 'Hey, how come the Arkadia catalog's not out there on our platforms?'"
That the streaming services would desire Arkadia's archive is unsurprising. It's a treasure trove including over 100 albums, with works by such revered artists as Benny Golson, Billy Taylor, Dave Liebman, and Joanne Brackeen as well as the entire discography of the Grammy-nominated Arkadia Jazz All-Stars. It also includes the full catalogs of Arkadia Chansons, an imprint Karcy founded to distribute his holdings of classic French popular music, and Postcards Records, an adventurous jazz label that Arkadia purchased in 1999.
Yet Arkadia's renaissance is not just a celebration of its backlog. The archive also holds multiple albums' worth of never-before-released recordings, including sessions by Brackeen, saxophonist TK Blue, and the Arkadia Jazz All-Stars. Even more exciting, however, is the fact that this glut of releases begins with the label's first new album in over a decade: "Meet Tetel," the debut recording by Brazilian singer-songwriter and violinist Tetel Di Babuya.
"She's certainly not in the 'classic' way we know jazz, with scatting and bebop; she has a more contemporary, singer-songwriter feel," Karcy says. "But she's in the jazz pocket—you couldn't call it any other genre but jazz. It's accessible, original, and really exciting."
More developments are in the works. In the coming months, Arkadia will unveil Arkadia Concerts, a VOD (video on demand) channel for jazz concerts and documentaries from Karcy's extensive catalog featuring artists such as Herbie Hancock, Nancy Wilson, and Joe Williams. Don't call it a comeback: Just say that Arkadia has resumed its place at the front lines of jazz's evolution.
Arkadia Records began in the mid-1990s when Bob Karcy—a lifelong music lover, musician, producer, and entrepreneur—decided to establish a recording hub that some of his favorite jazz greats could call home. The label's first release, 1997's "The Music Keeps Us Young" by piano legend Billy Taylor's trio, marks its 25th anniversary in 2022.
The company features three label imprints: Arkadia Jazz, which offers music that runs from the straightahead to the avant-garde; Arkadia Chansons, which distributes historic recordings of French popular music from the likes of Edith Piaf and Charles Trenet; and Postcards Records, a collection of snapshots from jazz's outer edges. Arkadia also holds an extensive video archive of jazz-focused programming, including concert performances as well as documentaries and other programs.
Arkadia's catalog features acclaimed and award-winning gems from such iconic jazz artists as Billy Taylor, Benny Golson, Dave Liebman, Reggie Workman, and Paul Bley, as well as lesser known but superlative talents such as saxophonist TK Blue, pianist Paul Tobey, and Brazilian bands Nova Bossa Nova and Pé de Boi.
In 1998, Karcy brought together several of the label's artists to form the Arkadia Jazz All-Stars. Arkadia's new signature band made a number of acclaimed recordings, including the Thank You series of tributes to John Coltrane, Duke Ellington, Joe Henderson, and Gerry Mulligan. The Arkadia Jazz All-Stars' "Thank You, Gerry! (Our Tribute to Gerry Mulligan)," which features Lee Konitz, Bob Brookmeyer, Randy Brecker, and Ted Rosenthal, will be released worldwide in digital format on April 8, 2022.
Arkadia has earned four Grammy Award nominations and numerous other accolades. Karcy, however, has always operated the label according to his own knowledge and eclectic taste, rather than fodder for awards and accolades. Artists who can "make strong and important artistic statements," he says, can find a home at Arkadia Records.