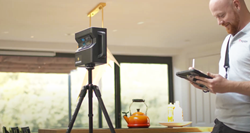 The virtual model produced will give our professional team fully accurate dimensions of every part of your home. We can then virtually wander around your house on our computers at Arkiplan headquarters.
LONDON (PRWEB) November 01, 2020
Today, Arkiplan announced the launch of its new 3D Home Scan service. Their new state-of-the-art service was devised to provide accurate, professional drawings for Planning Permission or Building Regulations Approval without requiring an overpriced and overburdened traditional Architect.
Previously, the company had only provided online architectural drawings to any homeowners wishing to save money by measuring their own house floor plan and submitting their own photographs. The company has grown exponentially since starting in 2009 and spawned multiple copy-cat companies all over the country.
Arkiplan's unique 3D scan takes place in under an hour and provides the company with everything they need to produce all of the necessary drawings for every type of Local Authority permission required for an extension, loft conversion or even an entirely new dwelling. The cutting-edge 3D Home Scan service is available now, precisely mapping the interior and exterior of clients' homes meaning any usual client of a traditional Architect in England or Wales can now take advantage of Arkiplan's cheaper, faster architectural drawings service. Homeowners planning to build or renovate any part of their home finally have a dependable advocate and friend in the design and construction industry, able to save the client unnecessary, expensive fees and unexpected delays.
At this time of COVID-related restriction, many homeowners are investing more than ever in home repairs, layout changes, loft conversions and house extensions to gain additional floor space and improve the comfort and overall efficiency of their spaces - Not to mention the surging popularity of home renovation television programs are really inspiring people to take a good look around to see whether their spaces are working well for themselves and their families.
Founder of Arkiplan, Dave Chamberlain explains how the process works, saying, "We aim to be at your property within 48 hours of instruction. The 3D scanning process just entails our locating a specialized camera in each room in your property for 20 seconds or so. The full scan normally takes no longer than an hour and the virtual model produced will give our professional team fully accurate dimensions of every part of your home. We can then virtually wander around your house on our computers at Arkiplan headquarters, with the ability to check and re-check parts during the drafting process to produce perfectly accurate drawings. This has never been possible until now as traditional Architects are only ever working from photographs and their own scribbled survey notes on a piece of paper."
He adds, "Our Scan Technicians have been employing this technology in other industries for a couple of years but only now has it been implemented en masse for online architectural design. We will give you full access to the 3D model we generate of your home and we will use the model during a Virtual Design Call in which the final design will be agreed upon with your designer and any technical questions will be answered." Arkiplan has published a video showing the 3D camera mapping process in action and an example scan model is available for viewing.
Depending on the COVID-19 pandemic and current UK quarantine rules, clients can still provide their own measurements, previous architectural plans or even estate agents plans along with exterior photographs and Arkiplan will continue to produce fast, high-quality Planning or Building Regulations drawings without the need for anyone to visit their property even once. Where home-vists are still permitted, all of their Scan Technicians will follow stringent safety guidelines and wear appropriate PPE.
"Because so much money is saved at the design stage, clients routinely apply their savings toward the project itself and end up with higher quality appliances or fittings at the end" Dave adds.
Finished architectural drawings can be ready in three days, however the standard pricing is for a 14-day turnaround. The drawings will be presented to the client for checking within the agreed turnaround and any amendments/corrections the client requires can literally be sketched onto the plans 'on-screen' using the Arkiplan Mark-Up tool. The whole process from start to finish is built for speed and efficiency. They do not charge for amendments or corrections so there are no unexpected bills or spiraling costs. When plans have been signed off by the client, Arkiplan will submit the council applications for free, (local authority fees apply) and act on the client's behalf as Agent until a decision is reached.
Arkiplan has over a decade of online reviews and has received 4.9 out of 5 stars from Trustpilot. They have previously been featured in The Times and The Daily Mail.
For more information go to https://www.arkiplan.co.uk or call 0845 852 0 852.