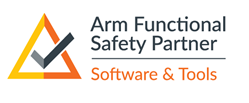 "SAFERTOS has been performing in Arm environments since its creation, providing an 'out of the box' product that requires no retesting on the target hardware."
BRISTOL, England (PRWEB) March 24, 2020
WITTENSTEIN high integrity systems (WHIS) and Arm have a long history of working together, with many millions of SAFERTOS implementations on Arm cores. Arm have invited WHIS to join the Arm Functional Safety Partnership Program, a carefully curated portfolio of industry leading companies with a proven track record in functional safety development. This partnership means that WHIS and Arm will continue to work closely together, delivering highly optimised software packages for safety critical environments.
WHIS have been specialising in safety since 2006, and have a long history of supporting Arm based environments, including the Arm Cortex-M, Cortex-R, and Cortex-A families, as well as offering integration for Arm Trust Zone. A wide variety of SAFERTOS® demos on Arm architectures are available for download from the WHIS download centre at https://www.highintegritysystems.com/safertos/
SAFERTOS is a pre-emptive safety critical RTOS that delivers unprecedented levels of determinism and robustness to embedded systems, whilst using minimal resources. It's used internationally across a range of safety critical applications and is renowned for its high quality. A key advantage of SAFERTOS is the upgrade path from FreeRTOS to SAFERTOS. Engineers can prototype using FreeRTOS, and convert to SAFERTOS at the start of formal development.
SAFERTOS is the perfect choice for Functional Safety projects as it is available pre-certified by TÜV SÜD to ISO 26262 ASIL D and IEC 61508 SIL 3. WHIS have a 100% success rate certifying SAFERTOS and are currently working with some of the biggest companies in the world on their safety critical projects.
"SAFERTOS has been performing in Arm environments since its creation, providing an 'out of the box' product that requires no retesting on the target hardware," says Andrew Longhurst, Managing Director of WHIS. "Using SAFERTOS in your Arm environment is a winning combination if your next project is for a safety critical application."
SAFERTOS and the WHIS profile can be found in Arm's Functional Safety Partner Program at https://developer.arm.com/solutions/functional-safety-partnership-program/wittenstein-high-integrity-systems
About WITTENSTEIN high integrity systems
WITTENSTEIN high integrity systems is a safety systems company that produces and supplies real time operating systems and platform solutions to the Automotive, Aerospace, Medical and Industrial sectors worldwide. For more information, please visit http://www.highintegritysystems.com.