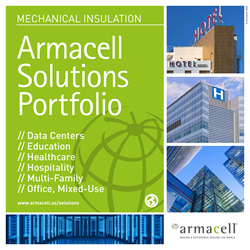 Armacell Solutions Portfolio packages make specifying the right insulation for all the mechanical systems in a project easier than ever before.
CHAPEL HILL, N.C. (PRWEB) July 08, 2020
Armacell, a global leader in flexible foam for the equipment insulation market and a leading provider of engineered foams, today announced the launch of its Armacell Solutions Portfolio into the North American market. This portfolio groups Armacell's insulation products into comprehensive packages aimed at making the specification of the right insulation for all the mechanical systems in a project easier than ever before.
With Armacell's Solutions Portfolio, mechanical engineers, insulation contractors and distributors can easily identify the best products to use where insulation is critical to the performance of the equipment, for example in an air plenum, on HVAC/R mechanical piping, on chilled water and hydronic heating systems or on plumbing.
Its new portfolio is organized into three categories: Standard Performance, High Performance and Superior Performance, with each category offering three levels of price and service. Plus, customers can categorize by construction industry project types including data centers, education, healthcare, hotels, multi-family and office/mixed-use, offering customers a time-saving way to determine the right approach for key markets.
"With our new one-stop shop for insulation specification, you simply pick your job type, the system and level of performance, and insulation products are recommended for you," says Shawn Dunahue, General Manager Marketing, AMERICAS. He continues, "We've backed up our portfolio with easy-to-access digital tools. You can download the associated specifications, data sheets and ebook from our website."
For the first time, this portfolio offers customers a 5-, 10- or 15-year limited warranty. Warranties are allocated depending on the choice of category, with Superior Performance offering the longest protection. Specifiers, contractors and distributors can have confidence that selected products are backed by Armacell's 60 years of industry expertise.
"Armacell is proud to stand behind the high quality products we make," says Ciro Ahumada, Armacell's Vice President, AMERICAS. "When the right products are specified and properly installed, our insulation can last the life of the system and our new warranties can make you feel confident about that."
Armacell has full-time specification teams dedicated to educating specifiers and contractors on the new solutions-based approach to choosing products. Lunch and Learns are scheduled to help further introduce the packages. More information about Armacell's Solutions Portfolio can be found online at http://www.armacell.us/solutions.