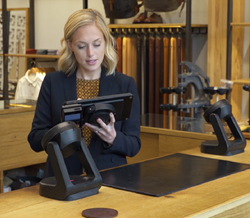 Tablet mobility has never been easier to deploy.
HILLSBORO, Ore. (PRWEB) September 19, 2018
ArmorActive, a global leader in tablet mobility hardware solutions, announced today the launch of their new RapidDoc™ Kiosk System, a family of tablet mounts providing a clean, modern aesthetic to excite your associates, engage your customers and modernize your brand image.
"RapidDoc was designed and engineered for today's modern point-of-sale aesthetics that is smaller, sleeker and easy to maintain while minimizing cables and clutter," said David Everson, Director of Global Marketing for ArmorActive / MTI. "Tablet mobility has never been easier to deploy and RapidDoc's variety of mounting options mean it truly adapts to your retail environment and allows you to charge and dock the tablet anywhere in the store."
RapidDoc is a premier, commercial grade tablet kiosk system, and the ideal solution for:

mPOS
Endless Aisle
Digital Catalog
Loyalty Programs
Restaurant Ordering / Delivery Services
and other popular use cases….
Click Here: Watch the unique features and benefits of the ArmorActive RapidDoc Kiosk System and how it solves many of the challenges faced with tablet deployments within Retail and Restaurants.
For more information about the RapidDoc Kiosk System, visit: armoractive.com/rapiddoc
About ArmorActive
ArmorActive, a division of Mobile Technologies Inc. (MTI), specializes in multi-purpose hardware solutions that allow tablet deployments for business. We manufacture equipment that increases the security, accessibility, mobility, and engagement level of tablets for every major business application. For more information please visit: armoractive.com