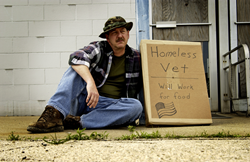 Veterans lived their lives in the service of others, and it is only just that we provide them with the most assistance possible. We are here to make things possible for veterans and help them live a more fulfilling life.
HUNTINGTON BEACH, Calif. (PRWEB) February 15, 2021
On any given night more than 40,000 American military veterans are forced to live on the streets. Homelessness among veterans is at a crisis level with more than 1.4 million service men and women exposed to chronic homelessness. The situation has become a stain on the nation and an insult to those who defended The United States through generations of conflict. "The homeless veteran problem is huge," said Nick Saifan,a 24-year-Navy/Army veteran and Chairman of Vendaval Corporation. "We can't build affordable housing centers fast enough to handle the need."
The homeless crisis did not happen overnight. It grew as the numbers of vets suffering from PTSD, alcoholism, isolation, divorce and desperation exploded over the past several years. The current economic crisis, a global pandemic, and a lack of affordable homes has given veterans few options and little hope.
Demographics of Homeless Veterans

11% of the homeless adult population are veterans
20% of the male homeless population are veterans
68% reside in principal cities
32% reside in suburban/rural areas
51% of individual homeless veterans have disabilities(1)
The Veterans Administration does what it can, but the problem is too large for government alone. Public officials and homeless advocates agree that an "extreme shortage" of affordable housing, livable income and access to health care contribute to the growing crisis. Caring communities, non-profit organizations and volunteers are needed to stand up for those who fought for our freedoms.
A report from the U.S. Department of Veterans Affairs(2) supports the need for change, especially in the area of affordable housing.
Saifan, a fierce advocate for homeless veterans, senior citizens, and working families, has a vision to end the crisis. He plans to build a multi-use development in Moreno Valley, CA. It will be a sanctuary for people—mainly veterans—in need of housing assistance. The development will help veterans and independent-living seniors find jobs, homes, facilities, training, access to programs, mentoring and a sense of place all in one location. It will also be a huge job creator for the residents of Moreno Valley and Riverside County.
The Moreno Valley project will put many veteran-friendly programs under one roof, including:
Veteran Programs, including counseling and mentoring;
Job-Placement Assistance;
Transportation to Medical Appointments;
On the job training.
Saifan asks the community to support the Moreno Valley plan as "it is long past time for communities across the nation to stand up for these underserved populations." Other pro-active moves include:
Determine the need in your community. Visit with homeless veteran service providers.
Involve others. If you are not already part of an organization, align yourself with a few other people who are interested in attacking this issue.
Donate to your local homeless veteran service provider.
Contact your elected officials. Discuss what is being done in your community for homeless veterans.
The growing tragedy of homeless veterans will not vanish overnight. It will take a coordinated effort from advocates, government leaders, non-profit organizations and every-day citizens. It's a battle that can be won, and it's a fight veterans deserve.
"Veterans lived their lives in the service of others, and it is only just that we provide them with the most assistance possible," Saifan said. "We are here to make things possible for veterans and help them live a more fulfilling life."
About Vendaval Corporation
Nick Saifan served in the U.S. military for 24 years, including time stationed in Riverside County, CA. He experienced firsthand the difficulties of transitioning from military life to civilian life and, as a co-founder of a community-based nonprofit, he watched the difficulty in getting donations increasing year by year. Today, he's putting his business savvy where his heart is. He sees a community that, like many, has struggled to evolve with a changing employment picture in the region. Today Vendaval Corporation visualizes  a sustainable business structure creating the opportunity for helping those in need with successful community-based programs. The differentiator in the communities he visualizes is self-sufficient affordable housing in a mixed-use development that offers on-site programs for veterans, youth, education, childcare, on-the-job training, and job placement. These programs begin even before ground is broken. Rounding out the community are retail outlets such as bakeries/coffee shops, dry cleaning shops, a paid-membership fitness center, and financial institution. For more information visit http://www.vendavalcorp.com/
1. National Coalition for Homeless Veterans; nchv.org/index.php/news/media/background_and_statistics/#demo
2 U.S. Department of Veteran Affairs; va.gov/homeless/docs/FS-10Ways062916.pdf