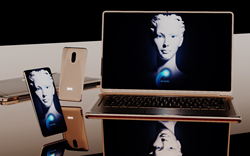 "We have the responsibility to support artists and athletes at the early stage of their careers by providing them the proper financial and economic tools," says Bauhaus X Chairman Arno Gasquet.
LOS ANGELES (PRWEB) April 17, 2020
Arno Gasquet & Bauhaus X announced today that they will be launching the first massive online media bank platform entirely operated by their most advanced AI and designed to exclusively support Artists, Entertainers, Athletes and social influencers.
"Bauhaus Media bank is a unique boutique media company with an online platform which will revolutionize Art, Entertainment, sport, as well as social media, in a very amazing way.
"A lot of very talented people are out there in the digital and online world; we have the responsibility to support their contribution to the culture by providing the financial tools they need in the early stage of their careers.
"Our incredible financial platform will run on the most advanced AI and will quickly provide financial solutions to these incredibly gifted people so they can quickly take advantage of their online assets and future earnings.
"In that instance, we will bridge the gap between a traditional financial institution and an online lending platform so we can act as a Patron of the Arts," says Bauhaus X Chairman Arno Gasquet.
"Our Platform will create a world without limitations. If what you do is create, uplift and inspire then you do business that needs to be understood, valued and financed. You don't have to understand financial and the business world to get a line of credit that will help you do what you do best. We have done it for you. We are very proud to be part of your business and help you craft an ever exciting world everyday," says Bauhaus X Global CEO, Artem Timofeev.
Bauhaus X is one of the leading ultra high end Design and R&D bureau in the world and has consistently collaborated with the top fortune 500 companies to deliver unrivaled products with LG B2B engineering.