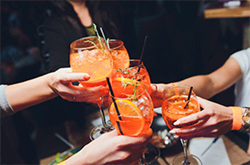 "One of the most exciting things about exploring a new country is the native food and drink."
BALTIMORE (PRWEB) April 22, 2020
One of the most exciting things about exploring a new country is the native food and drink. In a new report, International Living's editors and correspondents based around the world recommend the must-drink tipple folks should try when visiting their adopted country. (Of course, there's nothing stopping travel enthusiasts from mixing them up at home for the moment.)
Three from their top recommendations include:
Italy: Spritz
"Italy is known for its excellent wines, but come summer it's Spritz time—a cold sparkling glass of summer sun that has been all the rage here for several years and is now catching on abroad," says Valarie Schneider, IL Italy Correspondent.
"It started in Venice (or Padova, they vie for owning rights) and can be made with Aperol (the Padova version), Select (hello, Venice), or Campari (for rebels) topped off with white wine, usually prosecco but true Venetians use still white, and a final "spritz" of sparkling water.
"It's one of the few drinks in Italy that is generous on the ice, and it goes down easy. The Spritz craze goes to the max in the Emilia Romagna region, where bars offer their own signature combinations with different liqueurs or herbal essences."
Malaysia: Jungle Bird
"The Jungle Bird is arguably the most internationally recognized cocktail created in Malaysia," says Keith Hockton, IL Malaysia Correspondent.
"It is a rum-based cocktail and you will need 45ml Jamaican rum, 20ml Campari, 15ml fresh lime juice, 15ml simple syrup, and 45ml pineapple juice."
Panama: Pintado
"Panama produces several rums, but my favorite is Abuelo—the 12-year was awarded a Gold at the 2009 Ministry of Rum Tasting Competition and here in Panama it is just $30 for a 750 ml bottle," says Jessica Ramesch, IL Panama Editor. "The 7-year is just $16.50 and so good you can sample it neat or over ice, while the regular Añejo is $8.25 and perfect for a pintado—two shots of rum, club soda and lime to taste, and just an ounce of cola. Abuelo means grandfather so you could say Abuelo rum is the grandfather of all rums here in Panama…it's been around much longer than its competitors with their fancy bottles. I'll take a regular Abuelo over any other rum any day."
While so many IL editors and correspondents raved about their local booze, Jessica offers a cautionary tale:
"Panama's original spirit, Seco Herrerano, is strong stuff, distilled from 100% sugar cane via a four-column process and charcoal filtered for a smooth finish," she says. "It's made near the sugarcane region of Pesé by Varela Hermanos, a family-run distillery that dates back to 1936.
"It can be mixed with orange or grapefruit juice (I like a blend of both) or used to make cosmos...it works for pretty much anything you'd normally make with vodka, as it's similarly neutral in flavor. A 750 ml bottle is just under $7 so it's more than affordable. But unless you've got the constitution of a college student you may want to learn an extremely important phrase... before going to any festival or big family party in Panama: ¡No gracias!"
As in:

Would you like a shot of Seco?
¡No gracias! (No thank you!)
Would you like a Seco con leche? (Seco and milk…ugh!)
¡No gracias! - Would you like a Chichita Panamá? (Trick question! That's Seco with pineapple juice!)
¡No gracias!
More information on 11 of the best drinks to try from around the world, here: Around the World in 11 Cocktails—InternationalLiving.com
Editor's Note: Members of the media have permission to republish the article linked above once credit is given to Internationalliving.com
Further information, as well as interviews with expert authors for radio, TV, or print, is available on request. Photos are also available.
For information about InternationalLiving.com content republishing, source material or to book an interview with one of our experts, contact PR Managing Editor, Marita Kelly, +001 667 312 3532, mkelly@internationalliving.com
Twitter: @inliving
Facebook: https://www.facebook.com/International.Living/
About International Living
Since 1979, InternationalLiving.com has been the leading authority for anyone looking for global retirement or relocation opportunities. Through its monthly magazine and related e-letters, extensive website, podcasts, online bookstore, and events held around the world, InternationalLiving.com provides information and services to help its readers live better, travel farther, have more fun, save more money, and find better business opportunities when they expand their world beyond their own shores. InternationalLiving.com has contributors traveling the globe, investigating the best opportunities for travel, retirement, real estate, and investment.