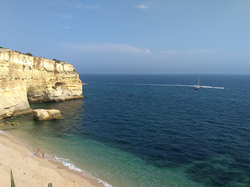 "The world is a big place, and there are scores of beautiful beaches where retiring and living the good life is within anyone's reach. And now is the perfect time to start preparing to visit the dream spots when travel resumes."
BALTIMORE (PRWEB) April 16, 2020
"Most people who dream about retiring at the beach assume they can't afford it," says Dan Prescher, senior editor at International Living. "Conventional wisdom says it's something beyond most people's reach, but that's simply not true when you know the best places to go to.
"The world is a big place, and there are scores of beautiful beaches where retiring and living the good life is within anyone's reach. And now is the perfect time to start preparing to visit the dream spots when travel resumes."
International Living correspondents have identified the top 21 gorgeous beach destinations—in Europe, Latin America and Southeast Asia—where it's possible to live well without breaking "the bank. In fact, as little as $1,200 a month can bankroll a comfortable life at the beach in some of these locales. Five of the best include:
Cozumel, Mexico
Just 12 miles off the coast of Playa del Carmen, along Mexico's famed Riviera Maya, Cozumel is a well-established, world-class vacation destination. Especially known for its warm, tropical water, snorkelers and scuba divers from across the globe enjoy exploring the island's reef, teeming with aquatic life.
Those wanting to enjoy an active lifestyle while also appreciating the pleasures of island life may wish to consider Cozumel for their retirement home. In addition to unlimited water-born recreational opportunities such as boating, fishing, swimming, snorkeling, scuba diving, sailing, and kayaking, Cozumel also provides modern infrastructure with a stable electrical grid and high-speed internet.
In Cozumel you can buy a couple of fish tacos for about $5 and wash them down with a $2 local brew, or splurge on an elegant steak and lobster dinner by the sea.
A couple can rent and apartment and live well in Cozumel for about $1,890 per month, all in.
Lagos, Portugal
Lagos is in the western Algarve, where the beautiful rock formations of Ponta da Piedade and inviting sands lure beach lovers, while a large number of bars, cafés, and restaurants offer food and beverage choices for all. It's possible to have a Portuguese breakfast at a local hangout across from the marina for a couple of dollars, with coffee and thick-sliced local bread toasted and dripping with butter.
Summer temperatures range from around 68 F to 82 F and drop by 20 F in winter on average.
A couple can live well in Lagos for about $2,080 per month, rent included.
Santa Marta, Colombia
Pressed between the Caribbean Sea and the snow-capped Sierra Nevada mountain lies Santa Marta, South America's oldest surviving city. With a population of 500,000 residents, Santa Marta is half the size of the more well-known city of Cartagena and is quickly becoming a sought-after destination for both tourists and retirees.
If your definition of retirement means staying active, eating well, enjoying cultural events, and soaking up natural beauty, then Santa Marta will check all these boxes and more.
Walking or riding your bicycle around the city's flat streets is an easy and inexpensive way to keep active. Spending time in the area's eco-parks is a fabulous way to appreciate the gorgeous scenery while exercising. Banks, pharmacies, grocery store chains, air-conditioned shopping malls, medical care, and beauty shops are scattered around the city and easy to get to either by walking or via public bus system or taxi.
Depending on lifestyle, a couple can live well (rent included) in Santa Marta for $1,190-$1,790 per month.
Canggu, Bali
The island of Bali has enticed many expats to retirement overseas. And, for quite some time, the towns of Sanur, Legian, and Seminyak have been popular choices. But just up the coastline is Canggu and it's quickly growing in popularity.
Canggu, pronounced "changoo," is a village located only 9 miles north of the more well-known party resort, Kuta. The western coastal stretch spans about five miles, running from Berawa beach to the village of Cemagi.
While Canggu is known as the new hotspot in Bali, the population hovers around 40,000. Old-time Bali still exists here and appears to be prospering, with locals, tourists and expats, a mix of old and new all merging well.
As a potential retirement location, Canggu offers a laidback lifestyle, close enough to the bigger town amenities without the hustle and bustle. The international airport is only a one-hour drive away and popular Seminyak only 15 minutes.
A couple can live well in Canggu (rent included) for about $1,266 per month.
Pedasi, Panama
Pedasi is a wonderful place to live for ocean lovers. Scuba, snorkel, windsurfing, and deep-sea fishing are just some of the things to do here. The town has all the necessary amenities for day-to-day living—the Minsa-Capsi hospital in Pedasi offers most services with a variety of specialists—there are a few grocery stores, gas station and even a public library. Las Tablas is the nearest shopping city and it's only a 45-minute drive away.
The safety of Pedasi is one reason why many expats move here. In Pedasi, there is little to no petty crime of any kind. Locals and expats all look out for each other, and locals welcome expats and expat businesses.
Including rent, a couple can live well in Pedasi on about $1,265 per month.
More information on these and the other 16 beaches can be found here: 21 Great Value Beach Destinations Around The World
Editor's Note: Members of the media have permission to republish the article linked above once credit is given to Internationalliving.com
Further information, as well as interviews with expert authors for radio, TV or print, is available on request. Photos are also available.
For information about InternationalLiving.com content republishing, source material or to book an interview with one of our experts, contact PR Managing Editor, Marita Kelly, +001 667 312 3532, mkelly@internationalliving.com.
Twitter: @inliving
Facebook: https://www.facebook.com/International.Living/
About International Living
Since 1979, Internationaliving.com has been the leading authority for anyone looking for global retirement or relocation opportunities. Through its monthly magazine and related e-letters, extensive website, podcasts, online bookstore, and events held around the world, InternationalLiving.com provides information and services to help its readers live better, travel farther, have more fun, save more money, and find better business opportunities when they expand their world beyond their own shores. InternationalLiving.com has more than 200 correspondents traveling the globe, investigating the best opportunities for travel, retirement, real estate, and investment.