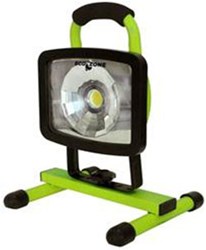 The work light only uses 23 WATTs of power, yet it has a light output of 1,474 lumens.
Issaquah, WA (PRWEB) August 05, 2013
TheHardwareCity.com already offers a wide variety of quality tools. Now, they are introducing the new addition of a high intensity bright white LED work light by Designers Edge. LED work lights are exceedingly more durable than the traditional halogen lights and are less dangerous because the lamp stays cool. The construction of the new Array LED work light supplied by TheHardwareCity.com is very resilient, made with die cast housing and a strong steel H-base. The work light only uses 23 WATTs of power, yet it has a light output of 1,474 lumens. It provides a 120 degree wide-angle light beam that is shadow free. It comes with a 3-foot power cord, a tool-free head adjustment, and a weatherproof on and off switch.
TheHardwareCity.com specializes in helping customers select the best tools and hardware for specific and general projects. They offer live assistance online throughout the week in order to help customers receive the exact tool they need. They pride themselves in offering the latest innovative technology in tools, like the new LED work light. They strive to save money where it is feasible for their customers without sacrificing the quality of the products offered.
Customers can subscribe to TheHardwareCity.com's e-mail list to receive discounts and special offers from the quality tool dealer. The website is very straightforward offering photos and descriptions of the products.
The new array LED work light by Designers Edge is available and in-stock at TheHardwareCity.com.
About TheHardwareCity.com:
TheHardwareCity.com has consistently supplied the highest quality tools available at reasonable prices since 2007. They are one of the largest online retailers of hardware products and tools. They offer tools relevant for all categories of projects, including plumbing, heating, electrical, bath accessories, painting, building supplies, lawn and garden, and more. To view the new LED work light visit http://www.thehardwarecity.com.