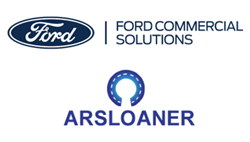 CINCINNATI (PRWEB) February 25, 2020
FOR IMMEDIATE RELEASE
Contact:
Laura Tierney
National Sales Manager
513-334-1056
ltierney@arsloaner.com
AutoRentalSystems.com LLC, announced today they have been named as an Authorized Ford Dealer Telematics Services Provider. This collaboration enables AutoRentalSystems.com and the ARSLoaner platform to leverage connected vehicle technology, like telematics, on modem equipped Ford/Lincoln vehicles. Through the factory installed modems, Ford and Lincoln dealerships can enhance courtesy vehicle fleet management by accessing robust, manufacturer grade data, such as vehicle health, fuel levels, actual odometer reading and more.
"As both an Authorized Ford Dealer Telematics Service Provider and an approved Ford/Lincoln Courtesy Transportation Program Provider, we can now offer dealers a full suite of capabilities to ensure they maximize fleet revenues, stay compliant with the Ford/Lincoln Courtesy Transportation Programs and receive greater visibility into fleet health and usage," said Laura Tierney, National Sales Manager for ARSLoaner. "From the first day we started working with Ford Commercial Solutions, it was clear the focus was providing innovative solutions to empower dealers. Through our collaboration with Ford our dealers are already seeing the benefits of this approach."
While these connected vehicle enhancements to the ARSLoaner launched in the US in February 2020, early adopters of the technology are highly enthusiastic. Roger Henson, service manager at Lincoln of Cincinnati stated, "There is a 'night and day' difference using telematics integration. The check in process is extremely fast because all the fuel and odometer data is available immediately. With the vehicle health indicators and warnings, we were notified when a customer using a LCTP vehicle had a bad tire. We were then able to contact the customer and get them into a replacement vehicle avoiding a potential poor customer experience. We can also proactively contact customers to put them at ease about diagnostic codes they receive or when a vehicle requires maintenance. Overall we are way ahead of the game with the LCTP telematics integration in terms of process and customer experience."
For more information about Ford Commercial Solutions, visit https://www.commercialsolutions.ford.com/
ABOUT ARSLOANER
AutoRentalsSystems.com LLC ("ARS") and their flagship product, ARSLoaner, provide a powerful and cost-effective courtesy fleet management platform that simplifies loaner and rental management. ARSLoaner prints all required rentals forms and tracks the vehicle usage data required by both manufacturers and insurers. Through the ARS partnership with the PDP Insurance Group and their Daily Rental Insurance Program, ARSLoaner prints the official insurance forms required by Ford/Lincoln. For information about ARS or about the ARSLoaner platform please visit http://www.ARSloaner.com, call 513-334-1056 or email sales@ARSLoaner.com.
ABOUT FORD MOTOR COMPANY
Ford Motor Company is a global company based in Dearborn, Michigan. The company designs, manufactures, markets and services a full line of Ford cars, trucks, SUVs, electrified vehicles and Lincoln luxury vehicles, provides financial services through Ford Motor Credit Company and is pursuing leadership positions in electrification, autonomous vehicles and mobility solutions. Ford employs approximately 191,000 people worldwide. For more information regarding Ford, its products and Ford Motor Credit Company, please visit http://www.corporate.ford.com.