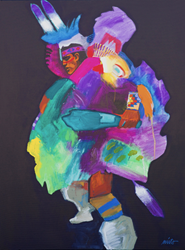 My colors express my worldview, which is positive and optimistic. My colors celebrate universal, enduring human values.- John Nieto
San Francisco, CA (PRWEB) September 03, 2014
For the first time, contemporary artist John Nieto's work is being brought online. Nieto Fine Art, which represents John Nieto, has launched a new website and online store. Nieto's paintings are displayed in stunning color and bold brushstrokes alongside the clean lines of his etchings and drawings. His original artwork, along with high-quality giclee reproductions are featured in the store on the website. Also available in the store for the first time are notecards featuring some of Nieto's most well-known work, and an iPhone case of his famous portrait of Sitting Bull.
About Nieto Fine Art
Nieto Fine Art represents five other artists in addition to John Nieto. San Francisco-based artist Craig Poindexter works in oil, acrylic, steel, and digital artwork. Other San Francisco artists are Eric Bailey, who works primarily in oil, and abstract artist Georgianne Fastaia. Painter Gloria Gaddis is based out of Scottsdale, Arizona. Jaya King, based out of Northern California, works on scrap lumber, using the texture of the wood in her paintings.
About John Nieto
Artist John Nieto is best known for his vibrant color and bold lines in his paintings, saying "My colors express my worldview, which is positive and optimistic. My colors celebrate universal, enduring human values." But he has also worked in many other mediums, from charcoal and pastel crayons to bronze sculptures to lithographs. His career has spanned decades, and has taken him everywhere from New Mexico to the White House. Nieto's strong connection with his subject drives his work - "I wanted to create art that was meaningful to me and relevant to my personal heritage and my time and place in art history," Nieto says. Nieto's striking artwork has been exhibited worldwide, and his personal journey has been chronicled alongside beautiful images of his artwork in the book John Nieto: Forces of Color & Spirit, available for purchase at nietofineart.com.