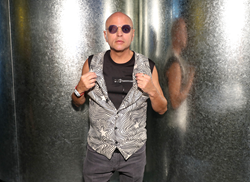 One of the standout moments at Art Basel 2018 was spending time with my friend Wendy Fritz of the famous Fritz Gallery in Palm Beach and discussing the Mark Rothko painting and two Picasso paintings from the 1960's.
MIAMI (PRWEB) December 10, 2018
When "Million Dollar Art Broker" Jimmy D Robinson enters Art Basel 2018, everybody freeze! Robinson loves Art Basel and striking a pose with the iconic South Floridian art dealer is a big part of all the fun. Since rising to prominence within the art world in the early 2000s, Robinson has become a central fixture at the most famous art show on the planet. This year was no exception.
"Truly the highlight of my year is when I get to attend my favorite art shows," states Jimmy D Robinson. "I often ponder if modern art is a reflection of life or if modern life imitates art. For me, Art Basel, is a complete immersion into art. There are no walls and I absolutely adore it."
Donning a signature designer Gianni Versace Couture vest, the main trademark of his celebrity persona, Robinson arrived sleeveless at the arty festivities with his partner, fellow artisan and international model Christian J. Perez and Miami model Jordan Polanco. Always hunting down the next big thing, Robinson peruses through the art installations while doing quite a bit of hobnobbing with all his colleagues and friends. Check out the exclusive Getty Images photos of Robinson and Perez with various attendees taken by Cindy Ord and edited by Jacqueline Romano here.
"One of the standout moments this year was spending time with Wendy Fritz of the famous Fritz Gallery in Palm Beach and discussing the Mark Rothko and two Picasso paintings from the 1960's," Robinson states. "It's always great to see Wendy and discuss clients while comparing our notes."
With a brilliant flair, Jimmy D Robinson consorts with critics, artists, and art fanatics all night long. For nearly 20 years, Robinson has been cultivating and promoting young artists, as well as handling established artists' coveted works while brokering sales with astute clients. Robinson's notable clients incessantly seek out the rarest of art pieces to purchase. Robinson's standout deals include the selling of great works by Frank Stella, Matin Johnson Heade, Adolph Gottlieb, Lee Ufan, Kim Tschang-Yeul, Henry Moore, Pablo Picasso, Guillermo Kuitca, and Lynn Chadwick. It is at Art Basel where Jimmy D Robinson uncovers the best new pieces to broker for clients.
In addition to his work as an accomplished art dealer, Jimmy D. Robinson, a native of West Palm Beach, FL, is also highly-respected as an eloquent modern poet, lyricist, and producer. Robinson transforms his 14 published books of modern poetry into music and songs with teams of gifted musicians and DJs, famous singers such as Melba Moore and Carol Jiani, the Grammy winning group A Flock of Seagulls, as well as gifted street artists who help him convey his artistic visions. Robinson's poetry expresses the human condition—loneliness, love, anxiety, fear, lust, desperation, and hope. His musical compositions ultimately deliver the celebration of life and art.
Robinson's artistic venture into dance and chill music with his poetry-turn-lyrics has been nothing short of phenomenal. To his credit, Robinson has amassed a multitude of Billboard and Music Week charting songs. Robinson also makes vocal appearances on the poetic songs alongside his superstar recording artists. Jimmy D Robinson personally curates all of Mind Juice Records and J Music Group's recordings himself, utilizing his modern poetic art.
For more information on Jimmy D Robinson Inc International Art Brokerage Firm visit ARTNET.