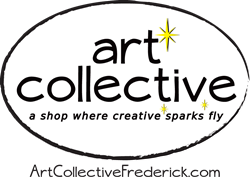 FREDERICK, Md. (PRWEB) January 23, 2023
Art Collective, a woman-owned small business, is celebrating its fourth year in downtown Frederick, MD. The shop opened on Market Street on Jan 19, 2019, after running a successful pop-up shop in November and December of 2018. Art Collective is a unique boutique that offers one-of-a-kind handmade goods, original artwork, and mixed media workshops with regional artists.
After a successful first year, the pandemic hit and created hardships for all retailers. Art Collective had to pivot and began offering virtual shopping via email or text and as restrictions eased, by appointment in-person shopping. By 2021, some infrastructure improvements were needed, and work began on installing a new floor to upgrade the shop's appearance.
Through these changes, Art Collective continued to seek out and recruit artists to join the collective bringing the total to 31 in 2022. These artists include painters, mixed media artists, jewelry designers, stained glass artists, photographers and more.
The shop's front window is frequently updated to align with the seasons and products in the shop. Most recently, the window was recognized as a runner up in the Celebrate Frederick's Halloween Window Decorating contest.
To mark the store's fourth anniversary, here are four facts you need to know about Art Collective:
1. Alcohol ink paintings have been the best-selling item.
2. Art Collective offers a variety of classes throughout the year at the shop often taught by the shop's artists.
3. Bette Brody has been a part of Art Collective since November 2018 and is affectionately known as the shop's "Artner" and Manager. Bette specializes in handcrafted journals and books, paper design, mixed media, and unique jewelry.
4. Plans for 2023 include increasing the types of classes offered and adding an online shop.
Art Collective is currently open for walk-in customers Thursdays through Sundays. Classes are conducted on the weekends or weekday evenings. Local artists interested in connecting should visit the contact page of the website for details on how to apply.
ABOUT ART COLLECTIVE
Art Collective is a woman-owned, small business located in the heart of historic downtown Frederick, MD. Art Collective was started by mixed media artist, Chelsea Weiss in 2019 to showcase and provide a venue for local artists. The shop features original artwork and handmade goods from 30+ regional artists. Additionally, Art Collective conducts small classes in various mixed media techniques.
For more information, visit https://www.artcollectivefrederick.com/
Follow on Instagram or Facebook @artcollectivefrederick
ABOUT CHELSEA WEISS
Chelsea Weiss is the founder and owner of Art Collective. She has worked in graphic design and explored many art media. She now works primarily as a mixed media artist who often creates under the name, Chelsea Sparks, to acknowledge the sparks that fly when creativity strikes.
Follow her work on https://www.chelseasparks.com/ or on Instagram @sparkychelsea