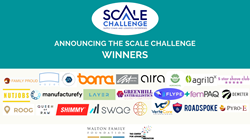 Winners will pitch to investors for early-stage funding at an exclusive, invite-only Investor Forum, planned for September 2020 in Northwest Arkansas. SCALE Challenge winners will engage with business and community leaders in Northwest Arkansas
BETHESDA, Md. (PRWEB) April 02, 2020
The Center for Advancing Innovation (CAI) announces 25 winners of the international SCALE -- Supply Chain and Logistics Enterprises -- Challenge. Supported by a grant from the Walton Family Foundation. SCALE is an open innovation contest to innovate the supply chain and logistics industry sector by launching 20+ high-tech startups advancing breakthrough inventions in advanced materials, artificial intelligence (AI), autonomous vehicles, drones, robotics, 3D printing, machine learning, augmented reality and virtual reality. Winning startups and overviews of their innovations are listed on the website below:
https://www.scalechallenge.org/winners.html.
Winners will pitch to investors for early-stage funding at an exclusive, invite-only Investor Forum, planned for September 2020 in Northwest Arkansas. SCALE Challenge winners will engage with business and community leaders in Northwest Arkansas, where they are expected to have a significant presence. Rosemarie Truman, Founder and CEO of CAI, said, "While SCALE is the largest challenge CAI has ever orchestrated, the Challenge is a first of a kind in two important dimensions. First, it's one where CAI systematically joined high-tech startup teams with entrepreneurs to cultivate the 'art spirit.' Second, SCALE represents the most significant challenge to disrupt supply chains across multiple dimensions, the food supply chain, fashion supply chain and more."
Jake Slatnick, Co-Founder and CEO of Aira, a SCALE Challenge winner, added, "CAI put together a recipe to fuel innovation. It's an initiative that's accelerated growth and is advancing infrastructure. We are honored to be winners and look forward to continued collaboration and opportunity."
The SCALE Challenge was orchestrated by CAI, a 501(c)3 non-profit that launched 300+ startups since 2014. CAI partners with 120+ research institutes -- including the National Institutes of Health, NASA, universities, and hospitals that cumulatively have more than 175,000 inventions combined. CAI and a 15-member committee of industry experts and investors selected 20+ de-risked disruptive inventions -- including breakthroughs -- from research institute partners. Startups launched around selected inventions in the SCALE Challenge.
In partnership with the Silicon Valley-based CODAME, CAI also matched startup teams with "Featured Artists", who serve as mentors and potential co-founders. Artists cultivate and nurture "art spirit", which will make SCALE Challenge startups more creative, disruptive, and poised for long-term success. SCALE Challenge Featured Artists can be viewed at https://www.scalechallenge.org/artists.html. In addition to artists, leading professionals advised, mentored, and judged the teams throughout the SCALE Challenge as "Advocates" https://www.scalechallenge.org/advocates.html.
Ross Devol, President and CEO of Heartland Forward and Walton Family Fellow, said, "Through the SCALE Challenge, entrepreneurs have tremendous support, training on how to SCALE up, and access to capital. It's so critical in the Heartland that we not lose focus that entrepreneurs are our future. Entrepreneurs will determine how successful the Heartland is over the long term."
Winners recognized with the Innovation Excellence Award will receive a cash award. The following startups are recognized as winners:
For more information on the SCALE Challenge, visit https://www.scalechallenge.org/.
ABOUT CAI:
The Center for Advancing Innovation (CAI) is a global public-private partnership, non-profit focused on creating a virtuous circle of innovation and driving growth breakthroughs through novel, creative paradigms and models. CAI's mission is to accelerate and increase the volume of technology commercialization to ignite entrepreneurship, bolster the global economy, and maximize the potential of promising inventions. CAI's award-winning challenge-based accelerator, rigorous evidence-based due diligence, and capital-efficient lean management models serve to hyper-accelerate "gazelle" high-performing startups for outsized investor returns. Named as the "Tinder for Startups" by Nature, the "Kickstarter for IP" by Wired, and a "Powerful Innovation Toolkit" by the White House, CAI launched 300+ startups and trained 3500+ entrepreneurs in 100+ cities worldwide since 2014. For additional information about CAI, please visit http://www.thecenterforadvancinginnovation.org.
ABOUT THE WALTON FAMILY FOUNDATION:
The Walton Family Foundation is, at its core, a family-led foundation. The children and grandchildren of our founders, Sam and Helen Walton, lead the foundation and create access to opportunity for people and communities. We work in three areas: improving K-12 education, protecting rivers and oceans and the communities they support, and investing in our home region of Northwest Arkansas and the Arkansas-Mississippi Delta. In 2018, the foundation awarded more than $595 million in grants in support of these initiatives. To learn more, visit waltonfamilyfoundation.org and follow us on Facebook, Twitter and Instagram.
ABOUT CODAME:
As members of Intersection for the Arts, a 501(c)(3) non-profit organization, CODAME shapes the future by building ART+TECH project explorations and inspiring experiences. CODAME events, installations, and workshops connect people of all specialties and backgrounds. Join us to continue the visionary celebration, running since 2010. You can learn more about CODAME on http://codame.com/