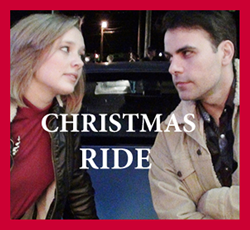 "A phenomenal story, and a masterpiece of a movie." - Memphis premiere attendee
Memphis, TN (PRWEB) May 23, 2014
The public is invited by Art Promotions to visit the wordpress blog to vote on their favorite of two new posters for the dramatic movie Christmas Ride.
Go to the movie blog at http://christmasride.wordpress.com to vote.
This feature movie is about an artist named Keri. After hearing a supernatural warning, she travels with her two kids and a mysterious neighbor on an urgent journey through the South at Christmastime 1991. She confronts dangers on this road trip to remember, and ultimately learns a heartbreaking truth, testing her deepest beliefs.
The film was produced in the greater Memphis area with a cast of over sixty actors. Community support in the way of cars and locations made this independent film possible. It was produced by Art Promotions of Memphis with the cooperation of Yarbrough Media Productions. The film was shot primarily in Covington, TN, with a few scenes also located in Olive Branch, MS, Atoka, TN, Cordova, TN, Richmond, VA, Washington, DC and CA.
The script by Karen Francis, a Memphian for 31 years, was selected as a semi-finalist in the Charleston International Screenwriters Competition. It was inspired by Memphis, TN and Virginia-based true events but is fictionalized and not meant to represent any person living or dead. The clean cut family movie includes children and teens in the cast. The filmmakers anticipate teenagers and older to be the main audience.
Currently, in addition to reviewing key art, Art Promotions is working on finding theatrical distribution and discussing a Memphis run with a local cinema through its booking office for Christmas Ride. Other companies are also in communications regarding production and placement of DVDs and territories for further release.
As an update on the cast and crew, the leading lady married, several actors have taken roles in additional films, one extra is also producing a film, and the cinematographer is working on new filming opportunities. One editor won awards with a short film he produced. The musicians have won some awards for their music.
More specifics about this film at:
and in the film database IMDB at:
http://www.imdb.com/title/tt3042886/?ref_=fn_tt_tt_1
http://www.artprofilms.com
http://www.facebook.com/christmasride
trailers and spots on YouTube at:
http://www.youtube.com/blessings427
The title report and a Blue ray version of the movie are now completed.
Cast your vote for the Christmas Ride movie poster today!