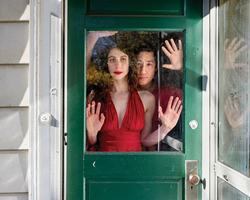 Since its launch, 'The Pandemic Lens' has blossomed into an artful contemplation of life, disease, waiting, heroism, and mortality during COVID-19." - Art Critic Cate McQuaid, Boston Globe
BOSTON (PRWEB) February 24, 2021
A new online arts and literary publication, THE PANDEMIC LENS has emerged, serving as a virtual creative diary of life in the time of corona by more than 100 photographers, artists, writers, and other creatives from across the globe, including the U.S., Italy, U.K., Germany, France, Argentina, Brazil, Colombia and more.
The site was inspired in June 2020 after Cambridge-based photographer Steve Bennett ventured out of his house for the first time in weeks with camera in hand to document how life had changed in his neighborhood. His photoblog soon morphed into The Pandemic Lens, which quickly went viral and, as Boston Globe's art critic Cate McQuaid proclaimed, "blossomed into an artful contemplation of life, disease, waiting, heroism, and mortality during COVID-19."
"During the first wave of 'safer at home' isolation, I found myself turning inwards for creative inspiration, shooting macro photographs and reprocessing older images. But by late spring, I had a yearning to see what life on the street looked like when restrictions slowly lifted. As I spent more time capturing images of people and shops in the area, I began posting them on The Pandemic Lens site as a way to bear witness to the time of corona," says photographer Steve Bennett. "I then began inviting artists, photographers, musicians, and writers from around the globe to help document the shared crisis."
SEE FOR YOURSELF: Click on the video link below to get a glimpse into some of the extraordinary reflections as told through the impassioned art, imagery, and essays of "The Pandemic Lens":

ABOUT THE PANDEMIC LENS
The Pandemic Lens began three months into the first pandemic wave by photographer Steve Bennett. Since then, more than 200 contributions have been posted to date, including:
"Somerville Theater" - Where it all started when photographer Steve Bennett took his first stroll during lockdown
"Masks of Boston" - Weekly contributions shared by noted documentary photographer Katherine Taylor (left--Congresswoman Ayanna Pressley)
"America Disrupted" - Watercolors inspired in isolation by NY Times best-selling author and artist Jay Samit ("Disrupt You")
"In the Time of Corona: The Gossamer Veil" by abstract landscape paintings by artist Tanya Hayes Lee.
"They Never Lose Optimism" - Stunning captures by Italian photographer Gianluca Federighi of the remarkable resolve of Tuscan community
"I Am a Nurse" – Powerful essay by Roberta Gately, a nurse, former humanitarian refugees aid worker and novelist ("Lipstick in Afghanistan)
"On Either Side of the Window: Portraits During Covid-19"- An ongoing series by internationally celebrated photographer Rania Matar.
Steve Bennett and other artists are available for interviews.
# # #
Website: http://www.PandemicLens.com
Instagram: @ThePandemicLens Facebook and Twitter: @Pandemic Lens
Contact: Cynthia Lieberman, LieberComm, liebermanc@gmail.com | 818-368-3808