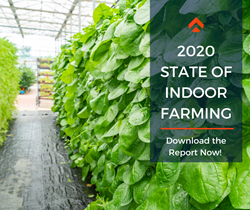 BROOKLYN, N.Y. (PRWEB) June 07, 2021
Artemis, today announced the release of its third State of Indoor Farming report. The indoor agriculture industry across North America has gone through significant changes throughout the past year. As our economies open back up, the big question on everyone's mind is where are we now and where are we going?
The purpose of the report is to look at where the indoor agriculture industry is today as well as to give growers an industry voice around the latest trends, biggest challenges, and the immense opportunities in this rapidly expanding industry. Artemis' analysis is based on a survey of 205 enterprise horticulture facilities, as well as supplemental research.
"The State of Indoor Farming report has been a leading resource in the industry for years and we're thrilled to be launching a new report this year. This industry continues to rapidly rise; billions of dollars are going to go into the construction of indoor agriculture facilities in the coming years and it's important we help move the needle forward as an industry together," said Allison Kopf, CEO of Artemis.
Growers will be interested in the report's 'Business Snapshot', comparing their facilities to the average yield and revenue for various facilities and crop types. The report also includes a deep dive on key topics such as expenses, sales channels, growth, and projections for the future of the industry. New this year is a supplemental report highlighting answers and trends from cannabis operators.
The 'Growth' and '2021 and Beyond' sections of the report are valuable strategic planning resources for many different stakeholders who are active in advancing the indoor agriculture space (e.g., investors, AgTech firms).
One trend has remained constant throughout each State of Indoor Farming report; There is a widespread need for more debt capital to fund this industry's rapid expansion and an opportunity for differentiation among banks and other lenders who haven't yet won the hearts of indoor growers. Banks, private equity, venture capital, and private investors may be interested in seeing how indoor operations are expanding and which lenders they're working with now.
To learn more, you can access the report here.
You can access our 2016 and 2017 State of Indoor Farming reports here.
____
About Artemis
Artemis is the market leading Cultivation Management Platform for enterprise greenhouses, indoor and high tunnel farms. The CMP enables growers to optimize their facilities for profitability by tracking all their operations and production data in one place. Artemis can integrate with existing systems (climate control, accounting, ERP), offering a bird's eye view of productivity and compliance.