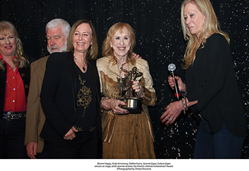 The Artemis Women In Action Film Festival is a voice of reason for women of strength and conviction on screen, while continuing to be a beacon of hope on the front of parity and representation.
SANTA MONICA, Calif. (PRWEB) June 25, 2019
From stunt panels to film screening marathons, the Artemis Women In Action Film Festival Fifth Edition was an incredible experience lasting four days. On April 25, 2019, actress Chase Masterson hosted the Artemis Awards Gala, in recognition of industry pros that represent female action and empowerment heroes at their best. Honorees included director Kimberly Peirce, actresses Daniela Ruah, Dot-Marie Jones, Levy Tran; stunt performers/coordinators Jeannie Epper, Melissa R. Stubbs, Shauna Duggins, Lisa Hoyle, Mahsa Ahmadi, Crystal Michelle, and Dejay Roestenberg. Highlights of the ceremony was the entertainment with musical performances by jazz recording artist Kaylene Peoples and Artemis 2019 winner for Best Song, rapper Jass Bianchi. Jeannie Epper, 2019 Artemis Lifetime Achievement Honoree, delivered a moving speech. Ms. Epper is best known as the stunt double for Lynda Carter on the television series WONDER WOMAN.
The article Artemis Women In Action 2019 Recap reads . . .
"Jeannie Epper gave a moving speech about her long, prolific career as a pioneering stuntwoman and actress. The WONDER WOMAN stunt double for Lynda Carter came from a family of stunt performers, starting her career when she was a child. Epper helped pave the way for future stuntwoman, and has had an extraordinary career!" - AGENDA Collector's Issue 2019 "Artemis Women Kick Ass!"
The awards gala was filled with heartwarming speeches with a common theme . . . that women's strength and physicality have been overlooked for way too long in the film industry in action genres, and especially within the stunt community. But every year, AWIAFF continues to call attention to those actresses, stuntwomen, and filmmakers who've help spread the word that women are not (and never have been) the "weaker" sex.
"Whenever I read the description of what the Artemis awards are about, one sentence in particular stood out to me. 'Our long term goal is to fundamentally change the way the world views women.' Now as a mom, I feel like this is a very important thing. But this change begins with teaching our kids, teaching our girls and boys that woman are just as smart for any job and just as capable—as is the case of many of you in this room tonight . . . just as capable with far less padding. This change also begins when women bust through glass ceilings and willingly hold the door open for the next one to step through." - Daniela Ruah's Acceptance Speech at the Artemis Awards Gala
SUBMISSIONS ARE OPEN FOR AWIAFF 2020!
Continuing the tradition of celebrating the indomitable spirit of women in film and music, AWIAFF has issued a call for submissions for their 6th edition. Key dates, qualifiers, and all pertinent entry details can be found here: https://www.artemisfilmfestival.com/submissions/
The festival, presented by producer/director/actor Paul Feig, was held at the Monica Film Center in Santa Monica on April 26th through the 28th. On Friday April 26, winning filmmakers, screenwriters, and musicians received their awards, and AWIAFF finalists flew in from around the world to be present for the occasion. For a complete list of AWIAFF 2019 competition winners, visit: https://www.artemisfilmfestival.com/2019-festival/2019-winners/
Opening films for the 5th edition were: THIS CHANGES EVERYTHING, STUNTWOMEN: THE UNTOLD HOLLYWOOD STORY, SEEING IS BELIEVING: WOMEN DIRECT, REEL WOMEN SEEN and RANGE RUNNERS. The atmosphere was electric as Artemis moviegoers lined up for the opening night attractions.
The following two days (Saturday and Sunday, April 25th-26th) were filled with panel discussions centering on topics of women in the film business, women in music, the business of female driven content, stuntwomen, writing, creating action, anti-bullying , etc. Festival attendees and filmmakers were served an incredible lineup of film screenings, industry networking, and social interactions. Festival participants enjoyed panel discussions featuring Teresa Huang, Chase Masterson, Cady McClain, Kiki Ebsen, Debbie Evans, and many other respected industry professionals.
The Artemis Women In Action Film Festival offers a novel voice to the filmmaking community. Aside from being a voice of reason for women of strength and conviction on screen, it was a beacon of hope on the front of parity and representation. In its fifth year, it has grown exponentially in the number of entries and screenings. Since its inception, having recognized icons such as Tom Cruise, Melissa McCarthy, Ming-Na Wen, Michelle Rodriguez, Rosemary Rodriguez, Andy Armstrong, Zoë Bell, Kristanna Loken, Linda Hamilton, and many others, the resounding message of AWIAFF is women are "badass." Women have known this for centuries, and now they're proving it to the world onscreen. Moviegoers want to see courageous women characters that are strong in spirit and physicality. With this year's long list of films screened at the Monica Laemmle, there is no longer any doubt that females have a deserving and powerful presence in the theaters. Congratulations to founders Melanie Wise and Zac Baldwin, who for the love of film and their eagle-eye mission to create a film festival as novel as Artemis Women In Action Film Festival. What an impact it has made. Sponsor AGENDA Magazine memorialized the fifth edition with AGENDA Collector's Issue 2019: "Artemis Women Kick Ass!"  To get a full recap of this incredible festival, visit AGENDA.
The sponsors and partners responsible for making the Artemis Women in Action Film Festival Fifth Edition a huge success: Paul Feig, AGENDA Magazine, Bella Composers, Santa Monica Audi, Final Draft, Action Factory, SANTA MONICA DAILY PRESS, ARGONAUT NEWS, Actors Guru, New York Film Academy, Entertainment Partners, Complete Production Group Hollywood, Women In Film, The Chimaera Project, Habibi Sport, InkTip, Asis Financial, Matt's Marketing and PR, Pop Culture Hero Coalition, CURATOR Magazine, AXTionWear, Backstage, and Array Entertainment.