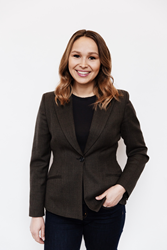 "It's such an honor to be recognized alongside such talented women in media. At Artful Living, our small team works incredibly hard to produce stellar editorial content, and we will continue to push the envelope in the future."
MINNEAPOLIS (PRWEB) May 11, 2020
Artful Living is proud to announce that Editor-in-Chief Kate Nelson has received a 2020 Top Women In Media Award presented by Folio: and AdMonsters. The prestigious accolade is bestowed upon an elite group of women who represent the best and brightest up and comers, entrepreneurs, change makers, corporate champions, and industry trailblazers in the publishing industry. Specifically, she is being recognized as a motivator, someone who "has made an extraordinary effort, and had an extraordinary impact, on the careers of her colleagues."
Nelson began working with Artful Living, a quarterly lifestyle magazine headquartered in Minneapolis, in 2010, just two years after the publication's inception. A University of Minnesota Hubbard School of Journalism graduate (B.A., 2007), she started as a copy editor and has since proven her remarkable talent, rising to executive editor in 2015 and most recently to editor-in-chief in 2019. She has been instrumental in shaping this leading regional consumer lifestyle magazine with national appeal. Today, Nelson is the youngest female chief editor in the Twin Cities market.
Last year, she was awarded a prestigious Folio: Rising Star Award, which honors the media industry's brightest innovators on the rise. Additionally, Artful Living was recognized for its editorial excellence with two 2019 James Beard Media Award nominations and one win. The company was also named to the 2019 Inc. 5000, which honors America's fastest growing private companies.
"It's such an honor to be recognized alongside such talented women in media," says Nelson. "At Artful Living, our small team works incredibly hard to produce stellar editorial content, and we will continue to push the envelope in the future."
Nelson will be celebrated alongside the rest of her Top Women In Media class — including such notable honorees as Forbes' Lynn Schlesinger, Bloomberg's Julia Beizer, ESPN's Laura Gentile, Consumer Reports' Leonora Wiener and PEOPLE's Cece Ryan — at a luncheon in New York City on September 9, 2020.
About Artful Living
Artful Living is an elegant, intelligent publication highlighting culture, food, home, style, travel, profiles and more meant to inspire and entertain. Founded in 2008, this award-winning quarterly magazine features engaging original content and beautiful design, bringing the best of the North and beyond to an affluent audience with impeccable taste. The Artful Living lifestyle brand is headquartered in Minneapolis.