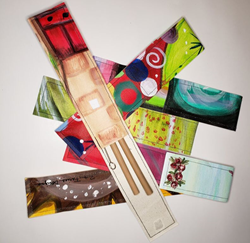 My One Straw at a Time campaign offers a twist on sustainability and up-cycling.
PHOENIX (PRWEB) February 04, 2020
Valley of the Sun based custom luxury designer Ruby Farias (https://www.rubyfariasdesigns.com) is looking to GBK's Oscars Celebrity Gift Lounge to help spread the word about her "One Straw at a Time" campaign. The campaign is designed to help reduce environmental damage caused by the use of plastic straws and is centered on the idea of making it easy to carry a fun and fashionable biodegradable bamboo straw and cleaner wherever you go.
With so much attention on the detrimental effects of plastic straws in landfills and waterways, Farias has come up with an artful idea to help replace their use. Reflecting her love for painting and fashion, she's devised an up-cycled painted canvas case that carries a biodegradable bamboo straw and reusable cleaner. The cases fit neatly in a handbag, backpack or laptop case and are individually cut and sewn by Farias.
These painterly cases will be gifted to celebrities stopping by The Artisan Group® exhibit at GBK's Gift Lounge honoring the 2020 Oscars Presenters and Nominees.
"My One Straw at a Time campaign offers a twist on sustainability and up-cycling," said Farias in an interview. "The goal is to bring awareness and change, with the objective of reducing the hurt on earth's marine creatures. With this small effort, I like to think we're helping to change the world 'one straw at a time.'"
A pioneer of the Paint and Sip studio concept in the Valley of the Sun, Farias closed the door on that project in favor of pursuing her fashion and design business. Stacks of sample painted canvases remained even after donating many to local non-profits. It then occurred to her that they would be the beginning of an up-cycled side project making woven clutch handbags and make a perfect carrier for the biodegradable straws she was obtaining for family and friends. And so the "One Straw at a Time" campaign was born.
Farias is best known for creating custom one-of-a-kind work-of-art clothing and accessories for those who want to stand out in the crowd by wearing bold and unique looks. Her designs have been featured in The Arizona Republic/AZ Central, Green Living Magazine, So Scottsdale Magazine, North Scottsdale Lifestyle Magazine, Phoenix Business Journal, and Paradise Valley Lifestyle Magazine, among others, and have been seen numerous times on television, including on AZTV 7 Arizona Daily Mix, ABC Channel 5 and NBC Affiliate KPNX Channel 12.
To learn more about Ruby Farias, her other products and this exclusive event, visit https://www.rubyfariasdesigns.com, or call or email Ruby at 602.295.5244 and rubyfarias@rubyfariasdesigns.com. Follow Ruby Farias Designs on Facebook (@rubyfariasdesigns) and Twitter (@rfariasdesigns).
Ruby Farias, Ruby Farias Designs' sole proprietor, is a resident of Scottsdale, Arizona.
*Neither The Artisan Group nor this event are affiliated with the Academy Awards Ceremony; Ruby Farias Designs is not in any way affiliated with the The Academy of Motion Pictures Arts & Sciences.