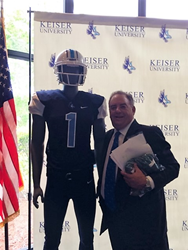 The committee is strategically comprised of individuals who have a clear focus on the achievement of each student-athlete's academic goals, expertise in collegiate and professional football, and the value sports add to the overall educational experience.
West Palm Beach, Florida (PRWEB) November 03, 2016
Dr. Arthur Keiser, Chancellor of Keiser University, announced during a press conference two weeks ago the addition of a football program at its Flagship campus in West Palm Beach. Today, Keiser University named Howard Schnellenberger, Gregg Wallick, Rob Konrad, and Dr. Gary Vonk to the committee that will undertake the national search for the program's inaugural head football coach.
Dr. Arthur Keiser said, "The committee is strategically comprised of individuals who have a clear focus on the achievement of each student-athlete's academic goals, expertise in collegiate and professional football, and the value sports add to the overall educational experience."
At the press conference, Coach Howard Schnellenberger said, "A wise man once said that you judge one's character by the company they keep on the grid iron. University of Miami is a great example of that, Louisville is a great example of that, Florida Atlantic University is a great example of that, and Keiser University is the next in line to become the next great example."
Kris Swogger was also introduced as the University's new athletic director. Swogger will provide support to the selection committee and expects a comprehensive and thorough search leading to an anticipated announcement of the Seahawks' head football coach by Dec. 31, 2016. Subsequently, recruitment of assistant coaches and athletes will take place during the first quarter and throughout 2017.
"The first official game is anticipated for Fall 2018 with completion of the new stadium, track, and additional athletic facilities in Summer 2018," said Swogger.
Keiser and Swogger noted that legendary national championship coach and current Seahawk's men's basketball coach, Rollie Massimino will have an advisory role on the committee given his decades of inspiration as a mentor and leader to scores of student athletes.
"I believe that we have the coaches, students, and staff to accomplish great things athletically and academically in the West Palm Beach community. It is an exciting time to be a Keiser University Seahawk, and I look forward to building a successful football program for our students, staff, alumni, and fans," Swogger added.
About the Committee
Rob Konrad attended Syracuse University where he played football as a fullback before being drafted by the Miami Dolphins, playing from 1999 through 2004. Konrad is currently the CEP of Alterna Financial and a Managing Director of KT Capital Partners. He is most recently known for his heroic swim to safety after falling off his boat while fishing alone in the Atlantic Ocean. Konrad swam nine miles over 16 hours and remains an inspiration to many South Floridians as a professional player and a survivor.
Coach Howard Schnellenberger attended the University of Kentucky where he was an All-American. He began his career as an assistant coach at Kentucky before moving on to the University of Alabama. In his professional career, he was an assistant coach for the Los Angeles Rams and Miami Dolphins and head coach at Baltimore Colts, University of Miami, University of Louisville, University of Oklahoma, and Florida Atlantic University. Schnellenberger has been a part of seven NFL playoff teams, two Super Bowl championship staffs, and four collegiate national championships.
Dr Gary Vonk has been with KU since 2007 and was named President of the Flagship Campus in July 2016. He formerly served as president of the Fort Lauderdale and West Palm Beach campuses, and Associate Vice Chancellor for Keiser University's growing Graduate School and Online Division. He has an extensive history of academia, business, civic, and philanthropic leadership in Palm Beach County. Since taking the Flagship helm, Dr. Vonk has added new academic degrees and athletic programs in swimming, lacrosse, and football.
Gregg Wallick is the Chairman of Keiser University's Board of Trustees and President and CEO of Best Roofing, a premier commercial roofing company located in Pompano Beach. He graduated from the University of Miami with bachelor's and master's degrees in business administration. Wallick was a former captain of the Hurricanes football team, is a current member of the NRCA (National Roofing Contracting Association), the FRSA (Florida Roofing and Sheet Metal Association), and has 28 years of experience in the commercial roofing industry.
Keiser University now has 22 intercollegiate athletic teams competing in the National Association of Intercollegiate Athletics (NAIA) division. The Seahawks have won four national championships and boast 67 All-American student-athlete scholars from over 39 countries.
The women's golf team is the 2016 NAIA National Champions for the second straight year and third time in school history. Men's basketball and men's tennis are the Sun Conference regular season champions and the women's soccer team won the 2015 Sun Conference Tournament Championship.
About Keiser University
Keiser University, co-founded by Dr. Arthur Keiser, Chancellor in 1977, is a private, not-for-profit University serving nearly 20,000 students offering 100 degrees at the doctoral through associate level on 18 Florida campuses, online and internationally, employing 3,800 staff and faculty.
Ranked #23 by US News & World Report in its 2017 Best Regional Colleges South category, Keiser University is accredited by the Southern Association of Colleges and Schools Commission on Colleges as a Level VI to award certificates and degrees at the associate, baccalaureate, masters, specialist, and doctoral levels. Contact the Commission on Colleges at 1866 Southern Lane, Decatur, Georgia 30033-4097 or call 404-679-4500 for questions about the accreditation of Keiser University.
For additional information regarding Keiser University, visit http://www.keiseruniversity.edu