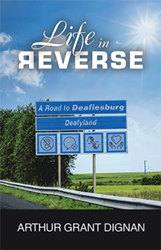 NEW BLOOMFIELD, Mo. (PRWEB) January 17, 2023
Arthur Grant Dignan announces his entry into the publishing scene with the release of "Life in Reverse: A Road to Deafiesburg, Deafy Land" (published by Archway Publishing).This novella follows a hearing family as they visit the town of Deafiesburg, Deafyland, and gain an unexpected opportunity to learn about a culture that's brand-new to all of them.
Paul and Mary Braden and their three children, Amy, Joe, and Toni, are on their way home from a month-long vacation when they begin driving through Deafyland, a unique state populated almost entirely by deaf people. Ten miles outside the state's capital, Deafiesburg, a patrol car pulls the family's van over for speeding. The Bradens are surprised to discover that the officer is deaf—and this is just the start of their adventures in Deafyland. A traffic accident leaves them stranded in the town for several days, but what they learn while there expands their horizons in ways they could not have imagined.
An excerpt from the book reads:
Deafiesburg, Deafyland, is often overlooked by ordinary citizens because it is a unique state located in a region of the United States of America that is not yet included on the map. However, the state is also unique because it has all the landscapes that people love, such as mountains, open fields, lakes, rivers, and the ocean. When first stepping into the state, every tourist, oblivious to its name and unaware of its differences in language and culture, would say, "Wow, what a beautiful state! I wonder if they have a job available for me here."
"This novella is based on true and familiar experiences we faced. I think the hearing who are not familiar with the deaf would enjoy reading, and learning many things about the deaf world/culture/language. The deaf readers would enjoy because a majority of them would relate," Dignan says. When asked what he wants readers to take away from the book, he answers, "I want the hearing readers to learn and realize that the deaf people are normal people. We can do anything but hear. I would like them to understand us more, and respect us in the same way we respect them." For more details about the book, please visit https://www.archwaypublishing.com/en/bookstore/bookdetails/845571-life-in-reverse
"Life in Reverse: A Road to Deafiesburg, Deafy Land"
By Arthur Grant Dignan
Hardcover | 5.5 x 8.5in | 108 pages | ISBN 9781665735261
Softcover | 5.5 x 8.5in | 108 pages | ISBN 9781665735254
E-Book | 108 pages | ISBN 9781665735278
Available at Amazon and Barnes & Noble
About the Author
Arthur Grant Dignan was born to deaf parents. He spent his childhood in Jacksonville, Florida, where he attended the Florida School for the Deaf and Blind. He earned a bachelor's degree in sociology from Gallaudet University and master's degrees in social work and deaf education from other institutions and served as an educator or administrator all over the nation in deaf schools and a couple of universities. He and his wife, Joyce, have three children and 12 grandchildren.
Simon & Schuster, a company with nearly ninety years of publishing experience, has teamed up with Author Solutions, LLC, the worldwide leader in self-publishing, to create Archway Publishing. With unique resources to support books of all kind, Archway Publishing offers a specialized approach to help every author reach his or her desired audience. For more information, visit archwaypublishing.com or call 844-669-3957.