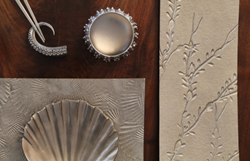 "I've always had a fondness for useful items made well and beautifully," notes John Luttmann, Artifaqt founder. "Collaborating with world-renowned chefs like Eric Ripert and Jean-Georges Vongerichten to create unique serveware allows me to push the boundaries between art, design, craft and utility."
PHOENIXVILLE, Pa. (PRWEB) September 04, 2019
For almost ten years, John Luttmann – artist, designer, master craftsman and founder of Artifaqt– has focused his attention on serveware as he continues to successfully collaborate with world-renowned chefs, including Eric Ripert and Jean-Georges Vongerichten, to combine their culinary zeal with Artifaqt's high level of ingenuity, imagination, and inventiveness, creating custom-designed serveware for the high-end restaurants. From exquisite serving bowls to striking charcuterie and cheese towers, these items are now available in shops and online for the discerning home food enthusiast seeking beautiful, functional pieces for entertaining and day to day use.
Artfully fusing utility with beauty to produce unique, lasting objects has been Artifaqt's mission since Luttmann began at his Pennsylvania-based atelier in 1983, using locally sourced wood and metal to handcraft one-of-a-kind pieces, which in addition to serveware, initially included furniture as well as other household items.
"I am a maker who has always had a fondness for useful items made well and beautifully," begins John Luttmann, Artifaqt owner and founder. "My best skills are a discerning eye and passion for design along with endless curiosity for, and a meticulous experimental approach to, process and object making," Luttmann continues. "I like to blur the boundaries between art, design, craft and utility."  
Each of Artifaqt's product designs begins with paper and pencil drawings. Prototypes come to life slowly and deliberately with wood, clay, chisels, knives and hands in Artifaqt's shop. For its wood pieces, like cheese boards, large platters and peppermills, Pennsylvania hardwoods are hand-selected from local mills for beauty, stability and durability, going from rough lumber to fine finish in Artifaqt's one location.
For its metal ware, such as serving bowls and elegant metal platters, patterns are made by Artifaqt from its own prototypes. Molds are made and configured on-site before going to two local foundries for the hot metal pours. Cast metal comes back to Artifaqt for cutting, grinding and polishing before going to other local shops for special technical coatings.
"The finish on our work is pushed to a level of surprise in hopes that people lingering over the touch will sense a greater relation to the materials and craftsmanship," states Luttmann. "It speaks to our intent for durability and longevity. And it's fun to see metal mistaken for ceramic!"