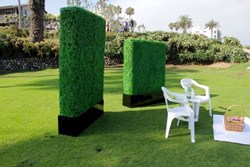 San Marcos, CA (PRWEB) August 07, 2013
Southern California residents have found that they can turn ugly retaining walls into green hedge and the cost is minimal.
Artificial boxwood hedge has improved dramatically in recent years. New techniques for manufacturing the polyurethane hedge have made it more UV resistant and fire retardant than ever. The hedge can be installed outside and will not fade in the intense California sun. The UV resistant material is mixed into the plastic and not sprayed on.
Residents of exclusive Rancho Santa Fe and La Joya have caught onto the trend and are installing the artificial hedge inside and outside their homes. Business owners are also using the hedge to bring new life to their businesses. "Green areas" inside and outside of homes are the new big thing in San Diego, and all over the country.
The trend started in Los Angeles as set designers and event planners used the artificial foliage in a variety of applications. People soon found out that the hedge works well in homes and businesses, is long lasting and requires zero maintenance or water. The artificial boxwood hedge looks real from a distance, and some people don't even know it isn't real when they see it up close.
Companies in the San Diego that sell the artificial hedge can also install it and consult their buyers. There are also videos online with step by step instructions on how to install the hedge yourself. Installation is fairly easy and requires little tools or extra materials, especially if it is installed onto existing walls or surfaces.
Geranium Street Floral is a premium provider of:
Artificial Boxwood Hedge
Artificial Boxwood Balls
Artificial Boxwood Plants