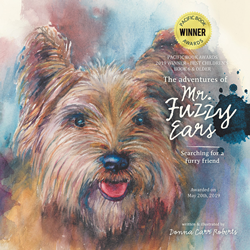 CHICAGO (PRWEB) November 11, 2019
Companionship and the importance of adopting rescue animals are the main themes in author and artist Donna Carr Roberts' adorable "Mr. Fuzzy Ears" series.
The first installment, entitled "The Adventures of Mr. Fuzzy Ears: Searching for a Furry Friend", tells the story of a furry small dog called Mr. Fuzzy Ears. The playful pup is lonely in the house by himself and goes looking for a companion. In the end, Mr. Fuzzy Ears' owners bring home three new friends from the humane society. The tiny dog is overjoyed to have companions to share his life with.
Roberts' overall inspiration from the book drew from her late dogs, Scamp and Izzy, two rescues that had an impact on her own life. "Even though I miss my babies every day, I think it's so important to speak to children about what happens to their animals when they cross the rainbow bridge," Roberts said. "We also have to speak to children about the significant work humane societies and rescue societies do with animals to pair them with suitable homes."
She is currently working on two new "Mr. Fuzzy Ears" books; the second, "The Adventures of Mr. Fuzzy Ears: The Mystery of the Missing Bunnies" is slated for release January.
"The Adventures of Mr. Fuzzy Ears: Searching For a Furry Friend"
By Donna Carr Roberts
ISBN: 9781532061707 (softcover); 9781532061721 (hardcover); 9781532061714 (electronic)
Available at iUniverse, Amazon and in-store at Bronner's CHRISTmas Wonderland
About the author
Donna Carr Roberts is an award-winning, classically trained artist in residence at the Slane College of Communications and Fine Art, Bradley University. Her work includes life portraits and still life images. Roberts regularly works with some of the nation's best artists developing new techniques and perfecting her style to keep her work fresh. She is a member of the Portrait Society of America, Oil Painters of America and a Member with Distinction with American Women Artists. She splits her time between Peoria, Illinois and Indianapolis. To learn more about the book please visit http://www.mrfuzzyears.com. To learn more about Roberts' art, visit http://www.donnacarrroberts.com.
Contact:
LAVIDGE – Phoenix
Kalin Thomas
480-648-7540
kthomas(at)lavidge(dot)com