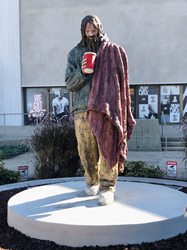 The question becomes how much homelessness will the public tolerate and are we all willing to make the demands and decisions necessary to deal with the homeless problem the same way we would for a national disaster?
SANTA MONICA, Calif. (PRWEB) December 11, 2019
Ed Massey's 7' tall sculpture of a homeless man, created 20 years ago, is staying on LA's streets for another 3 weeks. The sculpture, created after a chance encounter with an Olympian-sized homeless man, invites public reflection on an issue many people choose to avert their eyes from. This is the first-ever sighting of the sculpture in the public realm and the towering figure now confronts viewers and passersby at the high-trafficked corner of 26th St and Wilshire Blvd. in Santa Monica -- one of many Los Angeles areas dealing with the swelling prevalence of homelessness on neighborhood streets, business districts, and public spaces. The work's public exhibition is intended to stir and galvanize the public. Some may see it as a visual thorn, and the aim is to use the colossal visual as a vehicle to better educate the public on the complexities of homelessness and see if the public is compassionate enough and/or agitated enough now to demand maximum efforts to treat homelessness as a national disaster. In the 20 years since the piece, entitled "In the Image," was made, the issue has mushroomed and the homeless are becoming nearly everyone's neighbors throughout Los Angeles, San Francisco, and other urban landscapes.
Massey -- whose body of work often involves social themes -- emphasizes that the public has some decisions to make if it wants sweeping change. "Answers to the homeless problem are out there. Nobody likes or can defend the current situation. And the associated issues have been identified. The question becomes how much homelessness will the public tolerate and are we all willing to make the demands and decisions necessary to deal with the homeless problem the same way we would for a national disaster?" Until that latter answer is "yes," movement on the issue will be incremental, sporadic, and regrettably even unnoticeable in many of our public spaces, neighborhoods, and business districts," he says.
Getting the work into a premier public space started with a cold call. Massey approached the property owners of the 26th and Wilshire commercial property because of its prominence and public accessibility. They were receptive. According to the property owner, "Whatever side of the political isle you are on, the homeless crisis is an issue that needs to be dealt with on a humanitarian level now! We at Wilshire-26, LLC are honored to provide a highly visible venue for the acclaimed artist, Ed Massey to display his compelling work in a touching manner, and to evoke discussion to this increasing problem that effects everyone in Los Angeles and can no longer be ignored."
The artist often works closely with his brother, Bernie Massey, in framing the public education related to contemporary social issues. In their view, the public has a choice to make related to a handful of components that are are crucial to making major headway on the homeless issue. Any serious effort to substantially reduce homelessness must contemplate: comprehensive mental health treatment; addiction treatment; and job training services integrated with temporary and transitional housing site activation for people currently living on the streets or in their cars. Existing, empty and unused physical assets of all kinds could potentially be identified and activated for those purposes. The public must also decide if it is in the public interest to incentivize rapid multi-unit residential development to increase the overall housing supply. There are 50,000+ homeless in LA, but many others who cannot afford their housing payments and are on the brink. Should we build bigger and taller to greatly expand the supply of housing in LA and SF? The character of some areas would change. Is that trade-off worth it or is living with the homeless the better choice? What is the public prepared to say "yes" to?
The first public exhibition of "In the Image" is made possible by the following individuals, foundations, and businesses as an addition to the public discourse about the homeless.
W-26, Mark Leevan, Hon. Lili and Jon Bosse, Debby and Hal Jacobs Family Fund, JCF, Dawn Massey, Julie Brandt, Karine Levy, Bernie Massey
Laura Fox and Bennet Van De Bunt, Nancy and Bruce Newberg Fund, Tracy and Mark Ferron, Laura Paresky and Eric Gould Fund
A.V.I. Construction, Toni and Bruce Corwin, Fernando Hurtado, Deborah Ricketts, Eliot Teitelbaum, Thomas Baldwin, Lillian Massey, Center for American Studies & Culture, Catherine Scott, Marty Godwin, Sheri Mandel, Izikiel Hernandez
Where: Sculpture is currently on the southeast corner of Wilshire Blvd and 26th St. in Santa Monica, CA.
Other exhibition sites will follow as will inclusion of the work in other homeless initiatives.
For media inquiries, please contact studio@edmassey.com or call (310) 474-5141.