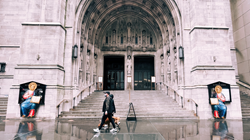 "Our leader is a self-proclaimed saint, worshipped just like the original Golden Calf. It's time to turn the page"
NEW YORK (PRWEB) October 28, 2020
On Monday, October 26th, 2020, American artist David Datuna unveiled his latest work "An Empty Book." The artwork, a diptych done in a classical style of religious iconography, pictures US President Trump as a saint, holding an empty book. In an art performance Datuna installed the work on the walls outside of St. Thomas Church in New York.
Says Datuna: "An artist's job is bringing the duality of reality front and center. Making your audience see the nuances in the difference. When I created 'SOS America' four years ago, and drove with it around the country, the diptych was a prayer that whoever wins the election will bring us together, and America will come out stronger no matter what."
"Four years later no matter how you look at it, the reality is stunningly singular: our leader is a self-proclaimed saint, worshipped just like the original Golden Calf. It's time to turn the page."
The artwork stayed on the walls of the cathedral for half an hour before being taken down by the security guards of St. Thomas who were alerted to the performance by pedestrians.
About David Datuna:
David Datuna is a Smithsonian-recognized, New York-based artist, focused on the convergence of art and social consciousness. For nearly two decades David crafts historical documents expressing freedom, global unity and the celebration of cultural identity in the form of sculptural flags, portraits and icons.
For information about the artist visit https://www.instagram.com/david_datuna