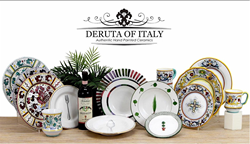 Authentic Hand Painted Italian Ceramics
GLENVIEW, Ill. (PRWEB) August 16, 2018
Artistica Italian Gallery, a family-owned importer of Italian home decor for over 28 years, announced that it has acquired the assets of New York-based Deruta of Italy, the oldest B2B distributor of hand-painted ceramics and majolica from the medieval hill town of Deruta, Italy, into the United States. Coinciding with Deruta of Italy's 35th anniversary, the sale sets in motion a comprehensive marketing and rebranding campaign, including the company's first-ever B2B eCommerce website.
A catalogue featuring new product collections in addition to key line extensions to existing collections is on the works.
"We are proud to continue the storied legacy of Deruta of Italy in the USA," said Marco Margaritelli, founder of Artistica, noting that the painstaking production process used to create the intricately detailed wares has resulted in limited availability of Deruta-produced designs in the American market.
The town came to prominence for its ceramics in the 15th and 16th centuries; today, each piece is still meticulously handcrafted by master artisans in the same time-honored technique to realize one-of-a-kind works of ceramic art signed by the artist. "We can continue to provide the market with the highest quality of handmade ceramics ready for immediate shipping," Margaritelli continued, "while preserving the tradition of craftsmanship that would have otherwise resulted in a major loss for Deruta's Italian suppliers."
Margaritelli acquired the company from longtime friend and Deruta of Italy Founder Salvatore Termini upon his retirement. Renamed as Artistica – Deruta of Italy, the consolidated company will operate from Artistica's new facility based in Glenview, IL.
The renowned Deruta of Italy lineup will complement Artistica's existing selection of Italian ceramics and the new Deruta Candles line, allowing the company to considerably expand its dinnerware and tabletop offerings, according to Margaritelli.
Artistica has debuted a B2B-only website for the Deruta brand at http://www.derutaofitaly.com and launched an e-commerce associate drop-ship program. All Deruta products will be available for drop-shipping to third-party e-commerce sites. Upon enrollment, qualified e-commerce sites will be provided with access to the full product database and imagery to upload for sale on their website. Requests should be submitted to deruta(at)artistica.com.
Deruta of Italy's current selection highlights some of its most celebrated classic patterns, such as Raffaellesco, a 16th century dragon-based pattern reputed to have been first painted by Raphael; Ricco Deruta, an illustrious Renaissance-era design; and Orvieto Rooster; a crowing rooster motif that symbolizes good wishes for blessings, prosperity and wellbeing.
Honoring the past while simultaneously moving into the present, Deruta will be introducing line extensions to the Raffaellesco and Ricco Deruta Collections, including candles, biscotti jars and olive oil dispensers.
For more information, contact Marco Margaritelli at marco(at)artistica.com.